Beluga Pay - the best platform for mobile sales system

Beluga Pay Is a promising project of crypto currency with simple payments in the mobile version. The project announces its mission to make the service more convenient for both buyers and sellers. Developed a mobile application for a smartphone, where you will store your crypto currency for which you can easily pay in restaurants -BELUGAREST, shops. More attention was paid to restaurants, as they already have a ready-made system of menu orders, up to sending an electronic order to the kitchen and of course paying a check. All this happens through POS-terminal, quickly, conveniently, you can easily carry out this procedure and enjoy your rest. Make payment on the exchange market - BELUGAEXEC and make loans to Crypto-currency - BELUGALOAN.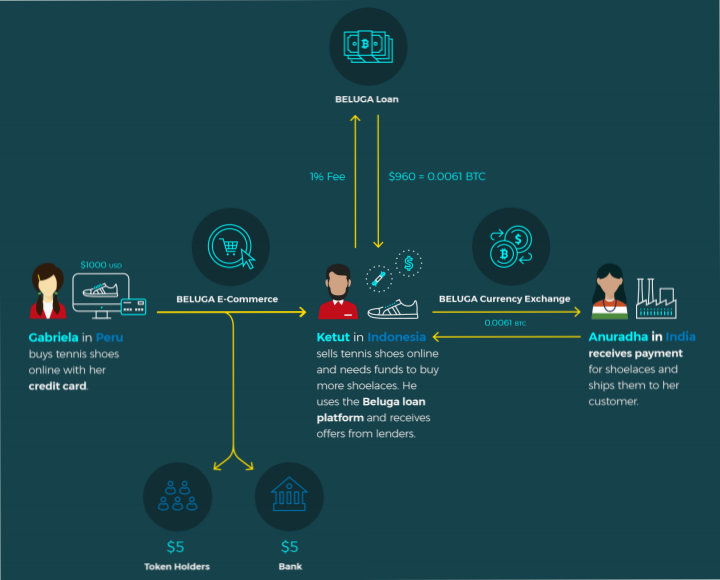 Consider the information of the International Bank for Financial Investment, since the 15th year, 66% of the population of several underdeveloped countries in South America and Africa are bankrupt. Taking into account the population with an average income, this figure will automatically increase to more than 3 billion people who do not have the opportunity to use the services of access to a bank account and, moreover, they do not have debit cards. Beluga Pay gives the possibility to use its system to the whole population. Provides a version of the platform desktop, tablet or mobile. There is also the possibility of sending funds simply by name to any part of the world, a settlement account and the address that will be located in the system will be attached to the name.
BELUGA PAY in the world
At the head of the system is the Mexican bank Banorte, they cooperate with 15 year, it serves as an intermediary between the crypto currency and fiat. Beluga Pay offices are located all over the world. BELUGA PAY already cooperate with two new companies: PIONEER and DUPONT, developed an application for paying expenses. Beluga Pay has received approval from payment giants like Visa and MasterCard. At the moment Beluga Pay program is used by more than 1000 all kinds of sellers.
Advantageous work with BBI
Tokens in BELUGA PAY are called BBI TOKEN. Is the token ERC20 - yes! This is the main point that is very interesting. In large countries, the problem with a small percentage of non-cash payments is popular. Beluga Pay shows this problem and if it succeeds in becoming a popular platform, then it will be one of the best hybrids of the cryptocurrency market. Token holders receive 5% of the number of tokens available. There is also a program of points and bonuses, and if we increase the tokens, then our bonuses are multiplied, as a result of which we can spend them on our personal expenses (travel, services, entertainment) .On the official website we can see how users used debit and credit more than 119 thousand transactions with cards, the expenses of which in restaurant complexes amounted to $ 2.4 million, and in stores $ 1.7 million. Since Beluga pay has a user-friendly interface, low commissions, fast transactions and the safety of your funds.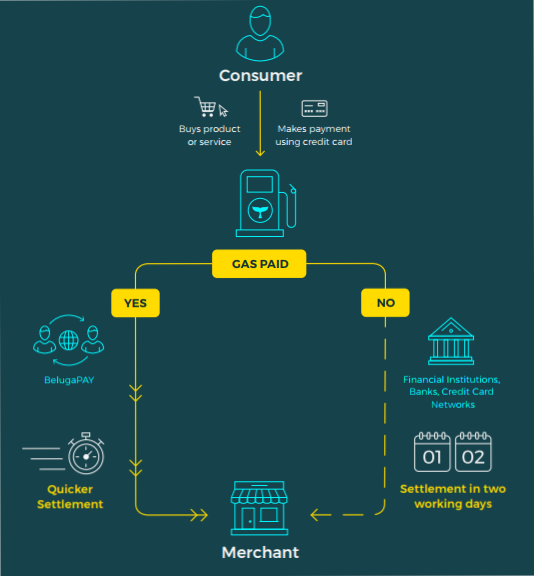 Bonus points are awarded to members with every purchase and service. Service Distributor Awards are awarded each time a product or service is sold.
How does the platform work?
Beluga Pay knows that the combination between the usual payment systems and the crypto-currency market gives an excellent chance to influence the lives of billions of people.
So, you are a guest of a fast food establishment, choose your food using the Belugarest application, make a payment using dollars or euros, cryptocurrency (bitcoin, ether or BBI). And when the payment was made from the card in fiat, the employee can use the BBI to receive the invoice without waiting for the bank deadline for the funds to be credited.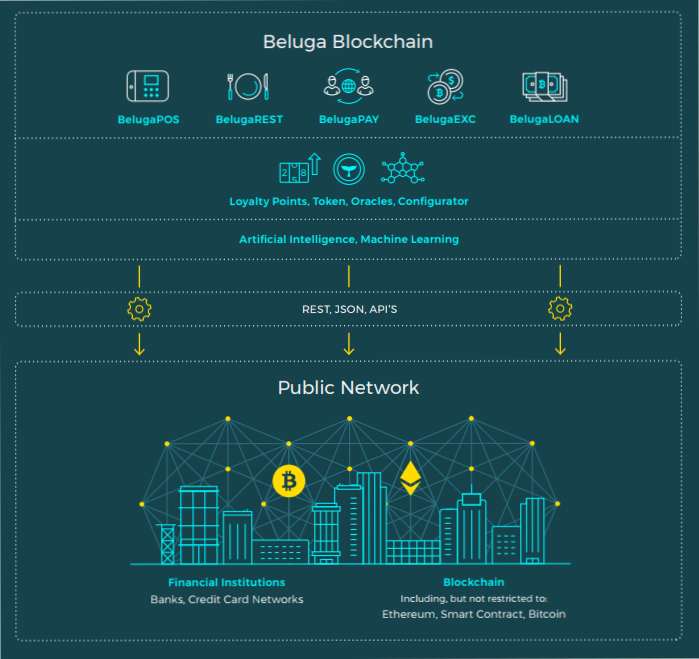 Beluga pay - invest in ICO !!!
Beluga Pay is a young company with a lot of competitors and the task to take over the market is almost impossible. In consequence, the startup decided to appeal to the ICO and attract the necessary investments.
In the ICO section, no more than 100 million BBI will be issued.
All not sold tokens will be disposed of, and this is undoubtedly a huge plus.
The tokens of the development team and the team will not be active for at least six months, which is also a big plus.
Current token bid: 1 BBI TOKEN = 0.003472222222 ETH
Also, positively, the price of the token will depend on the ability to earn 0,5% of all fees for the system.
ICO begins 14 December 2017 year and will operate until 28 February 2018 year.
Pre-ICO 10% bonus
1ETH - 316,80 tokens
from 3 on 31 January 2018 year
Pre-ICO 5% bonus
1ETH - 302,40 tokens
c 1 on 28 February 2018 years
ICO without bonuses
1ETH - 288 tokens
c 1 on 31 March 2018 years
In total, 100 million branded BBI tokens were issued, allocated to ICO 40 million BBI tokens.
Roadmap
Project Beluga Pay developed since the winter of 2014, due to one of the co-founders using an ATM that charges a huge fee of 10% and a fee of $ 15. The idea is to create a new and honest program that will serve non-banking systems. In the fall of 2015, a Mexican bank with more than $ 70 billion in assets joins, which undoubtedly gives great support to Beluga Pay. Summer 2016 1st real-time transaction processed by a mobile reader. Summer 2017 more than 100 sellers in a particular mobile application. December 1, 17th year was the launch of the first ICO and January 14th will be completed. On the 15th of the 18th, tokens will be issued, and on February 14, the tokens will be on popular exchanges. In the summer, a global project ends, a rather short-term implementation in the team's plans. Therefore, maybe it will overtake those projects that started earlier, since card projects with a link to the phone are very interesting.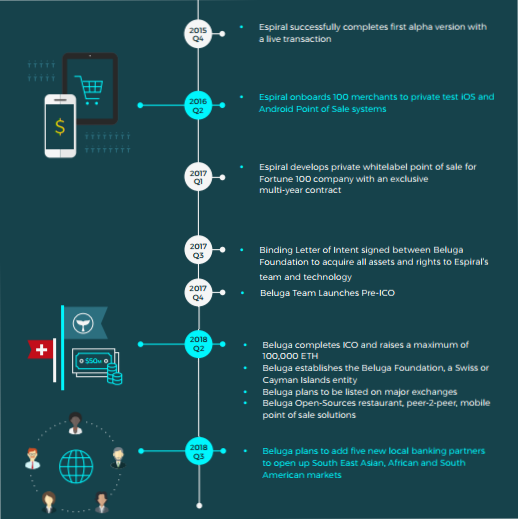 Team
Alex Avilla - Director
Hugo Mungiya - Technical Director
Sarawana Malaychami - Data Protection Officer
Maria Avila - Strategic Planning Officer

So Beluga Pay waiting for popularity and success, with its new beginnings. Very interesting project, take part, all good luck!
Links:
Official site: https://belugapay.com/
WhitePaper: https://belugapay.com/assets/beluga_whitepaper_v10.2.pdf
Bitcointalk: https://bitcointalk.org/index.php?topic=2270648.0
Bitcointalk in Russian: https://bitcointalk.org/index.php?topic=2322790.0
Telegram: https://t.me/belugapay
Twitter: https://twitter.com/BelugaPay
Facebook: https://www.facebook.com/BelugaPay
* Our BTT account is https://bitcointalk.org/index.php?action=profile;u=1473358;sa=summary
January 21, 2018