Gpibs.com - more than 4 months on the blog, smooth competent development and growth in popularity.

In today's review, we would like to draw attention to a long-term investment project from our portfolio, which was added to the blog at the very beginning of the summer season and has now been able to win sympathy from an audience of conservative investors. Next month the project will be one year old since its launch; the administration continues its competent development policy for its platform, which we are incomparably happy about, since our first investors earn money on liabilities and are already receiving net profit. In the review, we will discuss which investment tariffs are currently the most relevant, and also talk about the merits of the fund and its prospects for further development.

The GPIBS project has launched online on November 8, 2022 and settled on the Profit Hunters blog 7 months later, showing his intentions to develop further. By the way, the site has been in our investment portfolio for the fifth month already, the first investors successfully broke even, and moreover, they continue to earn money and increase their profit.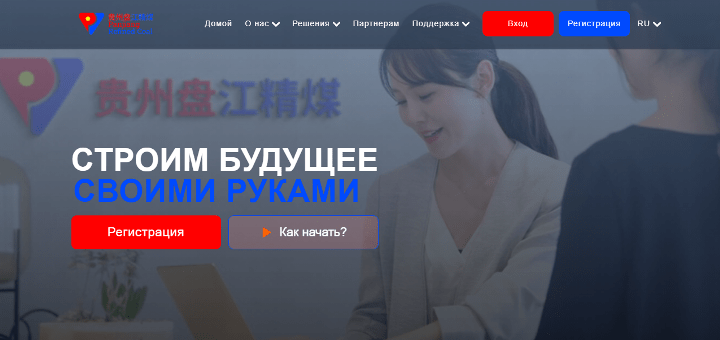 Activities of the largest Chinese company "Guizhou Panjiang Refined Coal" is multi-faceted and covers various industries. These include mining of coal, oil and gas, design and construction of power plants, production of products and installation of equipment, as well as many other business areas that the company is constantly expanding. In the spring of 2023, the company's management signed a number of contracts for the implementation of large work projects in Russia and Kazakhstan, thereby attracting private investment.
Investment line is represented by numerous tariffs, among which there are no widely available offers. The minimum wage starts from $115, with this amount you can take part in the project in order to receive a profit of 1.24% per day for 245 days. To increase earnings, you need to overcome the next threshold in the amount of $2500, which allows you to achieve a yield of 1.4% daily for 225 days. In total, the marketing offers 15 plans of the same type, differing in the minimum contribution amount, on which daily earnings depend from 1.24% to 4.2% and the number of days the deposit is open from 118 to 245 days without return at the end of the term.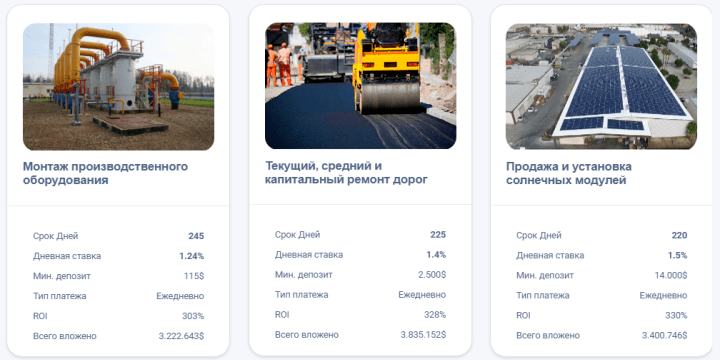 Plan 1
1.24% per day for 245 calendar days
Minimal contribution: from 115 $
Deposit is included in the payment
Total yield - 303.8%
Exit to breakeven over 81 day
Plan 2
1.4% per day for 225 calendar days
Minimal contribution: from 2500 $
Deposit is included in the payment
Total yield - 315%
Exit to breakeven over 72 days
from $14000: 1.5% per day for 220 days (ROI - 330%, payback - 67 days);
from $20000: 1.5% per day for 230 days (ROI - 345%, payback - 67 days);
from $50000: 1.56% per day for 215 days (ROI - 335.4%, payback - 65 days);
from $75000: 1.66% per day for 209 days (ROI - 346.9%, payback - 61 days);
from $100000: 1.72% per day for 202 days (ROI - 347.4%, payback - 59 days);
from $100000: 1.8% per day for 197 days (ROI - 354.6%, payback - 56 days);
from $100000: 1.82% per day for 200 days (ROI - 364%, payback - 55 days);
from $120000: 1.82% per day for 182 days (ROI - 331.2%, payback - 55 days);
from $150000: 2.55% per day for 173 days (ROI - 441.1%, payback - 40 days);
from $200000: 2.7% per day for 162 days (ROI - 437.4%, payback - 37 days);
from $300000: 3.16% per day for 150 days (ROI - 474%, payback - 32 days);
from $500000: 3.58% per day for 135 days, (ROI - 483.3%, payback - 28 days);
from $750000: 4.2% per day for 118 days (ROI - 495.6%, payback - 24 days).
For maximum investment convenience The project includes popular cryptocurrencies and stablecoins, and there is also the possibility of replenishing your account with fiat payment systems and bank cards. To receive payments, you must create a request in your personal account, which will be processed within 24 hours every day, except Sunday. When withdrawing funds, a commission of up to 15% of the amount is charged. The size of the commission can be reduced by holding funds in the project account. The more days that pass without withdrawal from the balance, the lower the commission will be.
Detailed information on monitors with this project you can look at Allhyipmon
You can see the dynamics of deposits in the project at Investorsstartpage
Detailed contributions statistics and detailed technical analysis can be viewed at h-metrics
Discussion of the project on MMGP
See our first review of the project at Profit hunters
Over the past few months, there have been no major changes; the Gpibs platform operates stably and smoothly expands its advertising boundaries. However, the administration listens to the wishes of users and has developed an updated design and interface, which has led to convenient use of functionality and improved interaction with the entire platform. New presentations and instructions have been created in video format, and a powerful pdf presentation has also been updated. Recently we launched a new promotion, under the terms of which you need to open investments on any tariff plan and get the opportunity to win additional funds to your account, as well as other valuable prizes.

> > > Registration in GPIBS < <
Refback 12% of the deposit amount.
This concludes our interim review, Gpibs project over 11 months of work, it has shown its capabilities and it should be noted that they have not yet been exhausted. Development prospects are open, the project may become more popular at the global level, so you can take a closer look. Despite the wide-format marketing, we recommend paying attention to the first tariff plan from $115 with an accrual of 1.24% per day for 245 calendar days. After the end of the term, the body of the deposit is not returned, the payback lasts 71 days, taking into account the refback from the blog, the total profit for the entire period is tripled from the amount of the initial investment. On other plans, the minimum amounts for entry have been inflated many times over, and therefore entail greater risks. The platform itself is excellent, the preparation is of the highest quality, original content, a lot of information, a unique script, official documents - all these are signs of a strong and worthy project. Next month will be the first anniversary, which is a good time for a serious fund; we hope it will be able to please us for a long time. Huge profits to everyone!
Subscribe to our channel Telegram - Subscribe
Chat with a daily distribution of money - Add
Order refbek with generous bonuses through our bot - Try
14 October, 2023