Interview with HYIP admin Neyton Green
A frank conversation with a top manager who undoubtedly launched the best fasts in 2023. The last project (Bitbrain.cc) gave at least 200% net profit to everyone. In chats I read a huge number of kind words addressed to him from ordinary contributors. His personal view of outwardly extremely successful work is very interesting.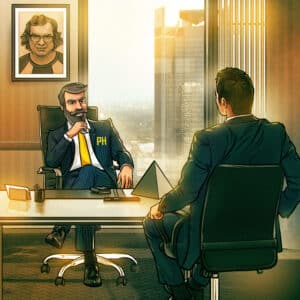 Hello. Thank you for taking the time to chat. I understand for anonymity, but how can I contact you?
- Greetings! So, to make it easier for you and for the readers, in local circles they call me Green. Why exactly Greene, sometimes I myself wonder) But if it's completely frank, then call me Newton.
What is a common name in the CIS ...
- (laughs) But it's really called that)) I have a second passport, it is this name that is written in it.
Admins have an interesting life. Okay, Newton, tell us a little about yourself. How long ago did you get acquainted with HYIPs and how did you come to the administration?
- I have such a circle of friends that everyone is a lover of excitement, extreme sports and everything like that. We love to pat our nerves with all this, this is a hobby, so to speak. Some can drain a decent amount of money on gambling, and get pleasure from it.
Here I am no exception. But he chose for himself such a direction as investments in high-risk investment companies (or HYIPs). True, as an investor, I was not for long.
I decided to try out the experience of administering this kind of project in 2019. About any aggregators, blogs, monitors, etc. I didn't know the venues at the time. I launched my first project, with a rather popular at that time tariff plan of 110% per day (hourly charges). As a result, you won't believe how long he worked ... but what can I say, it's better to show here - https://h-metrics.com/project/bitprofit.cc - ask what is the secret? And the secret here is simple: I did not think about making money. I simply wanted my project to work as long as possible and bring profit to investors. And I, in turn, was very pleased to see how a project with such bold marketing works day after day. There were unpleasant moments when the box office went into a serious minus. He perceived them as a kind of test and personal mission. He tried very hard to prolong the work - no matter what the cost. My project was first of all a gambling game for me, in which I was ready to lose my money. The same can't be said for many other admins... oh my gosh, am I probably deviating from the original question?
Yes, everything is fine. The first time I meet such an attitude to hype from the side of the admin. Usually everyone just really wants money.
Please tell us more about your most successful project.
— To be honest, in each project I give my best to the maximum of my abilities. But here, as in roulette, a lot of factors depend on luck. Sometimes a project with top preparation, everything is thought out to the smallest detail - but people don't get it. They do not like some aspects, they will invent some kind of negative, and they will not participate in it. Or, on the contrary, the project "shoots", catches people with something (perhaps by design, or marketing, perhaps luck just works). And they do not want to leave it, they still attract new participants every day. The word-of-mouth effect is launched, the project is flying.
Such a takeoff happened in one of my projects - grenminer.com (perhaps because of this project they called me Green). He flew into the masses enchantingly. With each new day more and more people joined the project. The servers could not withstand the enormous load due to the wild interest of investors. With such marketing, this could become a problem, but fortunately, I never spared money for services and for a team of professionals, and I do not regret it. We overcame all these difficulties quickly and, most importantly, almost imperceptibly for users.
So, the project was all in the same style (fast), there was a daily rate with hourly charges. Good profitability + good referral program. For all local investors, it is far from a secret what compound interest is, plus a fat refback from an upline. Summing up all these percentages, hardened hypers managed to earn huge percentages of profits. Later I read in chats about cases when, starting from $200, investors managed to earn about $10. This is a thousand percent of net profit for a second! Honestly, I was shocked myself when I checked the numbers in the admin panel. It seems fantastic, but this is a real case. The man just knew what to do.
This success was achieved thanks to a well-coordinated team. And word of mouth, which every day worked brighter and stronger. Also, I have never blocked large deposits, which many other administrators often sin. No bans? There is no negativity online. The project is flying.
Yes, I think many readers remember this project. Top work!
Do you have a stable team? What areas do you close with permanent employees?
- The team is definitely present. If you pull everything alone, this is a colossal work. You will be scattered in many directions and will not succeed in any. Each team member is responsible for one thing. One handles requests and questions from investors, the second sets up the servers and monitors their flawless work. The third raises the nodes, and monitors the safe and fast operation of payments.
I think many people know what a blockchain node is? The project needs its own nodes, especially with hourly marketing. Especially at high revs. People can withdraw profit every hour, and the project pays a commission for this abyss of transactions. Connecting a third-party payment gateway, which is now divorced like dirt, is not the best solution. Firstly, it is unreasonably expensive: from 1% to 4% of each! conducted transaction. Second, it's not safe. Your keys = your crypto. And these gateways are created by anonymous people who can easily cheat the admin for a round sum. Everyone understands that the admin of the hype will not go to write a statement to the police. My experience has shown that despite the complexity of setup and maintenance, own nodes are the best solution.
Definitely, my result would be much more difficult (and most likely impossible) to achieve by working alone. There are many investors, advertisers too, everyone wants your maximum attention. If you are not attentive to appeals, people will pass by your project.
You can immediately see a person who is maximally immersed in the process.
As far as I know, all admins want to either go to networkers. Or foreign investors. What is your experience with these Grails?
- "Networkers" - this word starts shaking me. I'll explain why. Not so long ago I started a project grenagro.com, many will probably remember him. The start was on the inside, the project flew very quickly. The picture from the start is beautiful, hundreds of thousands of dollars in cash, investments of 10 in one payment ... As always, I didn't ban anyone. I turned on, I start buying foreign advertising, doing everything that is possible and what is impossible - in order to digest such an active start. Even then I understood that the cunning (investors who enter the project at the very start and leave after 000 sometimes 1-2 laps) will hurt the project. There was no particular panic, at that time I had a reserve of $ 3k of personal funds for all sorts of force majeure, I was ready to spend them.
But even I went crazy when, on the 4th day of the project, the box office was already approaching almost 0. This is on purchased advertising. Everyone got in and out as if on cue. I didn't plan on stopping, of course. He continued to buy advertising, changed his money for other currencies, where the balance ended. Most of the drawdown was on TRX and BNB (which have the lowest commission and which these "network people" love). Even more ofigel when the outflow only intensified. By the end of the 7th day of the project, all the currencies that I frantically drove from wallet to wallet ended along with my reserve. As a result - scam, there was simply no other way out.
Of course, I wondered: what was such a big reason? This result of the work did not suit me thoroughly. It's not even about the lost pillow. Among the losers there were a sufficient number of people from a close circle of friends who, knowing me, supported the project with their investments. I went to look at the database, read chats, ask people's opinions.
As a result, I understood one thing: there was a call by several teams of 200-300 people. As it turned out later, from the same category of CIS "networkers". The crowd reinvested all 4 days at maximum speed, many of them created a complex decent percentage every hour. On the 4th day they received a command from their "mentors": "Let's go! Let's fix the profit! One knows, everyone knows. This false information quickly spread through the chat rooms and led to a scam. So now the word "networkers" makes me sick.
I also heard about some CIS networkers. They ask for a lot of money, but promises are not kept. To heat up the admin in network circles with money is a good deed, a successful success. Of course, this is wrong.
- As far as foreign investors are concerned, there is also some cunning. All investors want to make money. No one wants to be at the end station from where the train will not go anywhere. But still, investors from Asia and developed countries are more loyal to projects. Many actively help to develop the project, smoothly increase their deposits - which cannot be said about investors from the CIS.
Regarding the unsuccessful Grenagro: due to such a quick closure of the project, foreign investors and partners did not have time to show their full potential. Some have not even launched their advertising companies yet, because everything is moving there at a different pace than the Russians. Whose active flow of investments ends after a few hours of start, and everyone is happy with their pennies. I'm still experiencing that scam, but what happened happened.
Share professional features. How do you reach foreign audiences?
- There is only one trick here - to earn a good reputation. And reputation in our case is a matter of price. It is impossible for an admin to earn money in every project, and at the same time have an impeccable portfolio. Someone has to lose. If the administrator tries to keep projects, then his risks are much higher than the risks of fast scammers. And such an admin often goes into the red, losing serious amounts. Especially in hourly fasts, where the smartest investors pull out thousands of percent of profits with compound interest and refback.
Let's return to the topic of reaching a foreign audience. At one time I tried different types and methods of advertising. A variety of YouTube channels, some of which can simply deceive you, some use competent promotion of their channel, when there are views and comments, but there are no real investors. But here's the point. When you are already gaining some popularity, some name (as you can say I have), many bloggers connect themselves and connect their friends. Less often there are cases when you are thrown to pay for advertising. Because they know they have something to lose. Firstly, to lose my relationship with them (and the possibility of earning money in the following projects). And secondly, the opportunity to earn on a percentage of profit is more than the price of advertising.
I agree, word of mouth is the best advertisement, it always has been and always will be.
Look, in fact you are very successful in your business. Let people make money. Why do you think 90% of HYIP projects do not even give one lap and scam? Banal greed / inexperience of administrations? Or is the hype industry going the wrong way?
— Oh, look, the question is so complicated that the answer can be unpredictable)
But seriously, about the success of my work: as for me, everyone who gives 100% to their work will have a result. As I said earlier, for me administration is first of all a hobby. I don't see the primary benefit here in making money.
I am very interested in blockchain and everything related to it. Servers and the principle of their work, various programming languages ​​are interesting. I live it - maybe that's why it turns out to succeed. Coming back to the issue with the team, I have a lot of both full-time and remote employees. But in his absence, I can fully replace almost everyone. Maybe this is what distinguishes me from other administrators.
Regarding your question about 90% of failed projects in the market. This is my subjective opinion, but I'm sure many will support it. A huge number of HYIP administrators are HYIP investors in the past who decide to try themselves from the other side of the game. But they come to the market with the wrong mindset. All of them go with the hope that the BUBBLE button is buried here. They buy a leaky script, throwing it on hosting for 2 kopecks. Buy a couple of monitors, and wait for financial freedom. Maybe I'll upset someone now, but it doesn't work that way.
Project preparation should always be on the level. The site must process all customer requests with lightning speed. There should be no hesitation, delays, and even more errors.
As for the HYIP industry in general, I will say one thing. All of it is tied to one big, how to put it mildly ... deception. The admin thinks how to fuck investors. The investor, in turn, thinks: what project to choose in order to enter and quickly grab profits without doing anything. Blogs, monitors, all kinds of referrals - all are far from being holy people. They built a money path for themselves, got hooked on light grandmas. They are used to the fact that a new admin will come and buy a listing from them. It will accrue a bonus deposit, from which profit will drip without risk. Throw a commission and insurance in your pocket. In response, they will promise the admin mountains of gold. And in fact, they will stupidly place the project on their site, and score on it - the grandmas are received, the job is done? What he promised there, whether investors will go to the project or not, how to help the admin and extend the work of the project - the referee does not care at all. This selfish attitude is killing the entire industry.
Or, as the majority still likes to do, lure insurance from the administrator and put it on public display with the inscription: insurance is limited until such and such a date. Moreover, promotions with an increased refback on the first deposit are infuriating. Then everyone makes a helpless gesture, why are these projects closed so quickly? And what should a new administrator do with such a situation? Without a reserve, without a good team and, most importantly, without inspiration with burning eyes. He, too, was deceived, it turns out. The cash register is melting, there is no promised inflow - all that remains is to close the project.
What way do I see? Yes, everything is simple. No need to put forward insurance from the start, especially with a limited period! Ideally, you do not need to pay any refbacks, especially those increased on the first deposit! Then the start will not be fast, people will connect smoothly, the cash register will gradually grow. The admin will be less tempted to shave off the trick runners at a good checkout because the balance will grow progressively and increase day by day.
Remove refbacks altogether! Then users will have an incentive to invite new friends. This, in turn, will encourage new ones to invite, - after all, this is what the referral program was invented for. And what is the point, for example, of Vasya telling Petya about the project. If Petya, having learned about the project, goes to monitoring for a 100%+ refback and Vanya does not get anything from this. In the case of a scam, Petya will still show Vasya for the "wrong" recommendation. The referral system was not created for refbacks.
Interesting opinion. I agree with you, I myself sin with limited-term insurance. By the way, soon we plan to make all funds on the PH blog perpetual and refundable for admins.
As for refbacks, everything is more complicated, you are right that refbacks are generally harmful for a new audience. But just taking and canceling them for a separate resource will not work. The audience will simply go to the next blog. This is a common problem, but I do not see a simple way out of it.
Please write 3 brief tips, from the height of your experience: for an investor in HYIPs, for a blog/monitor and for a HYIP admin.
- At the expense of the refback, I agree with you. Removing it on one resource will not bring any result. But here we are talking about the HYIP industry in general. So, if everyone had a mad desire, like me, for example, to restore it, I'm sure it would have turned out to be a fucking result. But again, I repeat, everyone thinks only about their ass and their profits.
Regarding advice, in the current realities it is difficult to say something smart and relevant. But I will share some of my personal observation and experience.
Investor I would advise you to look closely at every little thing in the project before making a deposit. If the project is perfectly prepared, the chance of long-term work and profit in it is much higher. Carefully evaluate marketing, a lot is tied to it. Take a closer look at what the admin does in the first 1-2 days of launch: does he buy for maximum listings? Does he give out fat insurance? The smoother the start, the greater the chance for long-term work.
Blog/Monitor First of all, I would like to ask you to refuse limited insurances and increased refbacks. We all benefit from projects running longer. Think about it. If you build work on agitation of a trickster, encourage people with limited insurance and refbacks for the first deposit, this is the way to nowhere. In each of my projects, I ask everyone to either do without refbacks at all, or at least not pay more than 100%. Well, ideally, do not take all the slags in a row, for money. You drag your audience to the slaughter, you can't build a successful business at a distance.
About project administration already said a lot. I repeat, the main thing is to competently and professionally approach the creation of any HYIP. If you don't want to do well, with a soul, it's better not to do it. Be prepared for losses. Remember, good work is always rewarded in the future. In no case do not buy advertising in the first 1-2 days, no matter how much you would like to. At most, take a couple of cheap listings so that your project is highlighted on the Internet. Ignore all the assholes who attack the PM. Maintain your list with working contacts. Serious guys never write first to strangers, admins go to them themselves.
Thanks for the advice, I've written everything to the point.
What do you use for your anonymity/security? Can you give advice to young admins? Did you / did your acquaintances admins have any interactions with the "authorities"?
— Anonymity? What kind of anonymity is there?) I don't conduct webinars, I don't open offline offices.
In terms of other acquaintances, so I practically do not communicate with other admins. If there are any dialogues, then such topics were not started. Never had any problems and never heard of anyone having them.
But, of course, you should not accept payments to your personal card or launch a project from your personal page on a social network.
I got you. You are in France now. Do local tax authorities/police have any questions when relocating? Do you try not to shine with a rich life, or do you not bother?
- Frankly, my rich life is far from being an administrator. In it, on the latest projects, I can only boast of a minus (laughs). I have an offline business that brings good profits. In HYIPs, I relax, so to speak. Someone plays in a casino, someone at stakes, I play at HYIPs.
If the project can be closed at 0 or a small profit, this is a great joy for me. Which I can immediately distribute to the team)
Accepted, you have a good alignment.
In our private conversations with you, you often hinted at leaving the CIS market, "farewell", etc. Can you comment on what exactly you mean?
- Everything is simple here: it is very unpleasant for me that many people cheat for a couple of laps and then watch from the sidelines. At this point, you can close your eyes, all people are different. But in my heart I am upset by the fact that no matter how good you do to people, in the end, many will still be dissatisfied. Everyone takes huge profits for granted. Like, is it supposed to be like that? I made money, outwitted the admin - I'm such a smart handsome man. Admin closed the project? Here he is scum! - Without breaking down.
Moreover, it's disgusting to read couch experts who do nothing, don't deposit anywhere, just throw shit around chats. Their profit is always small, the term of work is short, the design is not the same and the glass is always half empty ... They start to be negative out of the blue. After reading such slag, I ask myself: why am I doing all this?
The second point is paid listings. Referrals, bloggers do not want to work for the long term from the word at all. Knowing me, knowing my principle of work, my requests still make the start very aggressive, with a sharpening for cunning. Again, these increased refbacks, insurance, etc. Then, after 5 days of work, their team structures lead the project's cash to a minus. And I also have to pay them on bonus deposits - all this negatively affects the project and its life. Of course, their strategy can be understood. They need a pipeline: the faster the scam happens, the faster the admin will buy a new listing for a new project. Instead of, let's say, 30-50 days of work, we manage to hold the project for about 20 days with all the maximum return from ourselves. Someone will say that this is so much for an hourly worker. I agree, but if not for my position, and not for my financial reserves at certain moments, the projects would hardly have been able to work for at least 2 weeks.
This is a long-standing problem, and in HYIPs this state of affairs has been considered the norm for many years. What way out for yourself do you see from this situation? You are still a super successful admin, with a recognizable personal brand. I would hate to lose you to the industry.
"Getting away completely is unbelievable. After all, despite all the negativity, I get a lot of positive from my work. Including my team. I can't leave them unemployed. But I definitely need to take a good pause to rethink some moments.
At the moment, I see the following option for myself as a way out: no paid listings in the CIS segment. After all, who really wants to, will come in without these stupid payments. All the rest, who are only waiting for the listing, they basically do not bring any benefit to the project.
As a listing blogger, this is painful for me to read. You break my greedy heart)
- Well, I'm sorry, I didn't want to hurt your heart) But these are the realities.
Well, where we do not. The work of a blogger has many nuances, and everything is far from being as simple as you described. Sorry, got distracted.
At the end of the interview, I will ask a personal question. How has working in HYIPs changed you as a person?
For example, I myself have been spinning in the industry for the 10th year, and I noticed professional deformation on myself: I can't trust people, I consider all financial offers, even adequate ones, as fraud/scam. It interferes with normal life.
- In terms of personality changes, albeit small - but they also exist. Each offer in real life is checked 100 times. Before agreeing and signing another contract, I go through a million options in my head about how they can throw me. Which, by the way, happened many times in HYIPs when paying for advertising to bloggers and YouTubers.
Still sometimes in offline life in people I see only a selfish interest in myself, and nothing else. Maybe sometimes it's not fair. Again, such thoughts are constantly spinning in the subconscious due to the specifics of investment projects. Where everyone is primarily guided by selfish interests. Very often they keep in touch with you so that in the event of a project scam, you can ask for personal insurance from the admin. Did many recognize themselves? 🙂
I think many, but most habitually score on the thin voice of conscience)
Thank you very much for taking the time to talk. Greetings, will you publicly convey wishes to someone?
— Thank you for the interview, this is the first text format interview for me. It took not much and not a little more than 3 hours to write answers.
I hope that my views and advice will at least reach someone. We all - both admins, and referrals, and investors earn in this hype industry. And everyone should try to make their place of work a little better. Admins - do good projects and work for reputation. Referrals – remove the tools for tricksters, don't be arrogant with listings. Invest more in traffic. Investors - while playing in the project, support it with good reviews, positive unsubscribes in groups. In the end, everyone is interested in making each project work as long as possible and please everyone with a profit.
A big heartfelt hello to everyone, see you soon 😉
Always a pleasure to talk to you 🤝 From the bottom of my heart, good luck in business and life.
- Bye!
______________________________________________________________
Subscribe to @PH_loans, earn in @PHmybot.
For any questions: @PH_Bona
Article in the Telegraph: here to register:
9 June, 2023