History of the Old School admin (Part III). Competition for 1000 $

After the closure of ArtMoneyCraft, I take a break for six months. I travel a lot, take a break from work. At the end of winter, I start to create a new project in the web studio using the same unique script - Astoria-Holding (working hours: spring 12 - September 12). The project did not represent anything special in terms of design, the legend was also wadded. But since the bloggers already knew me as an admin, the project went surprisingly well. I worked for 6 months, I earned about 2.3 million rubles.
In Astoria I only remember that I began to actively accept funds to bank cards of Sberbank, Alfabank and Qiwi wallet. At that time, cards were issued only for drops (now they are already doing for passport scans - this is reliable and guarantees at least that money will not be stolen). The likelihood of withdrawing money and a kick from the drop was high, although I chose trusted card sellers and with a guarantee. Nothing helped - they were withdrawing money anyway. A transfer will be received from the depositor, you must immediately withdraw it to the perfect or liberty. He hesitated - the card block, the money was withdrawn by the drop. You have to buy a new card, and this was always a problem at the time. Sellers of such a product (or "material" as they say in their circle) did not always have the necessary cards in stock. We made similar material to order, and this is a few days - a rather big problem for a working project. Depositors do not like to wait: they want to invest money through a bank, but I cannot accept. I lost many of these investors. Losses due to theft from cards in this project amounted to about 600 thousand rubles - 2 times 250 thousand were taken from Alpha, and 100 thousand through Sberbank. I lost money mainly because of my laziness - it was necessary to immediately withdraw the balance upon receipt of money. But this is life and it's hard to be on the alert every day. You think: okay they will lie down until the evening, at the same time I will spend the payments and bring the rest to Perfect. In the evening you go to Alfaklik - there are zeros. Be more careful in general with the cards, do not believe the guarantees of the sellers. Open cards better for parents, sister / brother or best friends (just kidding). The project was closed when large sums fell on the application. I closed it with the feeling that I didn't get enough of it. Life has shown that this is a dangerous feeling. In the wake of the popularity and support of bloggers, people quickly went to Astoria - they still knew who the admin was and how much he worked. And since large sums began to enter quickly from the start, many began to withdraw too early, and the load on the cash desk was serious. Hence, only 6 months of project work. After the scam, there were a lot of threats, someone even wanted to write statements to the police. Flag in their hands.
Let's talk about contextual advertising in Yandex Direct and Google Adwords. It has been customized in almost every project I have. I don't know how the admins of other HYIPs set it up and moderated it - admins usually don't like to share such things. I'll tell you how I did it. When I just for the first time, I don't remember in which project, I decided to buy contextual advertising in Yandex, I just could not get through the ad moderation. Always a refusal for a reason that does not correspond to some law there. Simply put, because the pyramid. The project was already open, and I decided to take this step: I stupidly hang one page on my website, where I describe the fabulous conditions for investing in PIFs, stocks, bonds, and at the end I come up with a contact phone number and some details of the company with the office. And voila - I'm going through moderation in Yandex. I immediately remove this page from the site and return it to its previous appearance. The depositors hardly understood anything at all, besides, it was only for a couple of hours. In the future, I always did this, but already in advance, before the official opening of the project, I made sure to create an ad in Yandex, and on my website I posted a one-page page about what services for investing in Pifa. As for advertising on Google: there I began to advertise much later, in my opinion, just from this Astoria-holding project. Placed an ad, and it was available in the ad without any problems. On this Google account, I advertised the following 3 projects, but then it was blocked for me. Apparently they saw that I was advertising a pyramid project, or perhaps someone snitched from a competitor. I heard that now it has become much more difficult to pass moderation both in Yandex and in Google - probably there are a lot of pyramids and there are a lot of complaints about them, or because they finally defined the "pyramid" by law and adopted the "law on pyramids". I think it became uninteresting to search engines to be substituted legally too.
Another interesting point - on behalf of some large projects, they wrote to me to remove ads for some keywords, otherwise we will allegedly write to the support service to close your ad. For example, they wrote from MMCIS, some kind of HYIP from Ulan-Ude (it was actively advertised by Alexei Rantier, it seems an e-bank) and some other blackmail was not going to remember everyone. In general, I advertised my last 3 projects only in Yandex - after the blocking Google did not approve of the campaigns. PPC advertising had a good arrival of investors for me, especially targeted investors who first learned about high-yield investments. This was very noticeable when the support team received questions "how to invest money", "how to register in PerfectMoney", "how to replenish what is there", etc. At the start of the project, the daily budget for the context was set small - within $ 30 per day, after 3-5 months it usually brought it to $ 150. As a result, it was really high-quality advertising. Anything else is usually a waste of money.
My next project was GoldMeridianBet (working time: November 12g - May 13g). On the wave of success of previous projects, I create another project on the subject of sports betting close to me. In general, so lazy to order new scripts, come up with a design. Stupidly took ArtManiKraft, ordered a minimal alteration of the script and some simple design downloaded from public. I did not conceal from anyone who was in the project admin - and everything also worked out easily and easily. Several monitoring, plus several bloggers, went to work. Smooth development at 3-4 month, but there was a sharp jump in deposits at the end. I collected about 5 million rubles here. After this project, I had a wedding, I planned to buy an apartment in Moscow. Because of all this spending, I did a lot with my assistants and bloggers in this project, not returning them personal deposits. Because of this, many people took offense at me. Until then, I always planned a budget for return to those in need within 2-5 thousand dollars, depending on the project. In fact, the reputation in the HYIPs plays a huge role: in a very miserable site from the "trusted administrator" can throw a few million a month, and in an excellent prepared, expensive project without an insider will not go. This is especially noticeable among network bloggers, who often turn crowds into frank slag projects. Which themselves adminat (but this is not accurate).
So you ask, but how did I advertise GoldMeridianBet? But in any way, much has been built on the success of previous projects. Did not attract any networkers, PR people, speakers. The only thing I tried from the new one is sending out promotional brochures to mailboxes in Moscow. Plus in the Moscow region ordered the placement of advertising in elevators. Spent an order of 150 thousand rubles, taking into account the printing of beautiful color booklets. According to my personal feelings and according to the metrics / statistics - the result was not noticeable advertising, this did not give, either on deposits or on registrations. I do not recommend it.
Yes, Gold Meridian still had money for a kiwi wallet. In the last month of work, I did not have time to withdraw money from kiwi. For the day they threw 300-500 thousand rubles. At the same time, the conclusion was also decent, especially in Perfect, Liberty and Savings Bank (the rules of the project allowed to be output to any system). It was necessary for the day to manage to pour from kiwi into the perfect, in part sometimes it was even necessary to replenish Sberbank - it lost a lot of time with these movements of funds. But nevertheless, the margin was about 100-200 thousand clean per day, and it settled mainly on kiwi. And what is Kiwi as a payment for the administrator? This is a big hemorrhoids. Often, they block, with withdrawal through exchange offices, then there were also problems - too suspicious considered such an exchange. As a result, to the project scum on kiwi-purses there remained approximately 1.2 million rubles, which were frozen. I used the services of defrosting accounts from gray forums: one purse with a balance of 300 thousand on Simla Beeline helped me to unlock, but half of the man took for his work. The rest of the money (about a million) kiwi appropriated to itself. Such losses / risks for administrators.
We go further - the project OnlineMoneyBank.org (work time: January 13 - April 13g). For the first time I decided to use the h-script and the turnkey project. Probably not quite a good name, weekly plans, a "favorite" forex legend. At the peak deposits reached 20 thousand dollars, but then went the outflow and almost no new deposits by the end of the project. The Khitranners here tried their best. OnlineMoneyBank faded almost at the same time as GoldMeridianBet. Despite the different scripts, many draw parallels between the two projects, saying that the admin is one. I do not know with what it was connected, maybe somewhere it was pierced and signed in the letter not by that name or project. Still, it's hard when two projects work simultaneously, and you need to respond carefully to emails. In the support questions are often the same, and you can very easily mix for which project you write the answer. The bottom line is that there was no earnings, it is closed after the cash department is exhausted. He even refilled his funds in this project when there was not enough money to pay. All for nothing.
I want to talk in more detail about the cunning runners. They began to appear actively in my projects with OnlineMoneyBank and Astoria Holding. But if in Astoria this did not lead to closing without profit, then the opposite happened here. As you know, hitrunners are investors who enter at the start of the project, and then after a short time of up to 1.5 months take the investment with interest and look for a new project. Since 2012, the problem has become widespread. And there is no need to demonize admins - fast scams, this is the answer to the massive cunning.
Let's take an example: in OnlineMoneyBank, as I wrote above, at its peak the cash desk was $ 20 net. Now tell me what to do: close the project or continue working? It seemed to me that I needed to work further, because one more project was working in parallel and no matter how I came across this "movement" of hit runners. I worked further, the hit runners came out - there was no cash register, as a result, I worked out a lot. Despite a decent job, there was still a lot of negativity and reproaches in the key: the admin would work further, pay everything, then make more money! It was downright funny. In OnlineMoneyBank, I paid everything to myself in a few thousand losses, and investors did not make more deposits. Therefore, you can't guess here. Rather, by some intuition, you close the project and fix the income or pay further. By the way, hit runners come only from bloggers or from under monitors. In principle, I did not take some blogs / monitors into advertising, they obviously had everything too much. For a month, their referrals participate in the project, post payments (at least thanks for that), and then even if the project works for another six months, not a single contributor is active. I will not name these resources, so that Hunter will not be offended.
The conclusion from the above: everything is interconnected, quick scams - this is the answer of admins to the mass trick. If you are pouring mud at the admins, do not forget to pour mud at the hunters, who, by insiders, will deduct several thousand into the project from the start, do not post their deposits and payments anywhere (so that the project is not thrown), and then come out with a profit without doing anything useful for the project. This is a serious problem for everyone.
My next project, not so distant history ...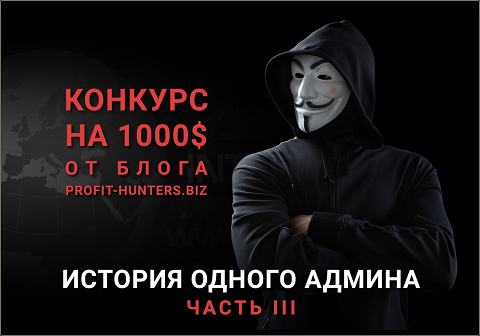 Competition for 1000 $:
The winners of the second stage:
1st place and $ 125 - Elian, for the story about CRP - we say hello to the Gadfly;
2st place and $ 75 - Saliman, safety is our everything;
3rd place and $ 50 - Hype - "major" Iliad, like your easy approach to heavy deposits;
To all winners - write to me on contacts, I will transfer prizes 😉
And we give out money further. In the comments to the article, introduce yourself and tell:
Tell us about your maximum profit in the HYIP project (or HYIP projects)? Right where they went all-in, and earned.
Plus, tell (if any) the story of your super-luck in life (for example, you have discovered a rolex, or you won an apartment in Sportloto).
Your story should be duplicated in any social network blog (for example, in the comments group on VKontakte)
Prizes will be paid on Wednesday evening, after the publication of the final fourth part of the story.
January 29, 2018