Apexone.ai review and reviews. A promising investment project with a moderate yield from 0.118% to 0.2755% daily for 20-900 days.

Today's reviewed on the ProfitHunters blog is the unusual Apex One investment platform with chic preparation and voluminous functionality. The project is new, developed on its own core and is seriously different from the classic HYIPs we are used to working with. In fact, the goal remains the same, we invest and earn from 4% to 40% per month, depending on the selected investment proposals. As a curiosity, only rich content and functionality that we have to deal with in the current review, we recommend that everyone familiarize themselves.

Apexone (Project start: April 23 2023 years).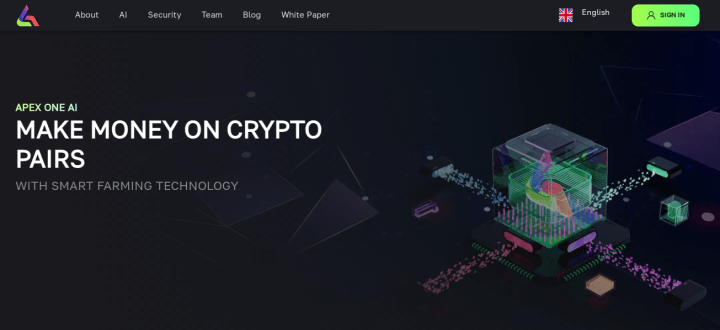 According to the legend Apex One AI was created by a team of professional managers who, by virtue of their activities, combined modern technologies based on artificial intelligence and trading in the cryptocurrency market. Apex is an inter-exchange trading platform with efficient and profitable transactions thanks to the developed smart farming technology, which is confirmed by regular financial reports. Apex One AI Limited has been officially registered in the UK since April 29, 2022 (registration number: 14079108).
Design the developers paid special attention to the site and its content, the content is original and maximally saturated with materials of a different nature. The site is multilingual, in the corresponding panel you can select any of 10 languages, there is currently no Russian translation version. There are various instructions and training materials for working with investments in your personal account. Adaptive layout is available, links on the site are all working, there are pages in all popular social networks. Navigation is intuitive, but at first you will have to get used to the non-standard structure and understand the sequence of actions.
Investment program It is represented by three tariff groups, each of which has its own characteristics. In the first group of plans, you need to buy internal Apex tokens and throw them at 0.118% -0.2755% per day for a period of 35 to 900 days. The minimum cost of creating a deposit is 100 Apex or approximately $28, with a return on investment at the end of the term.
0.118% -0.2755% daily for 35-900 calendar days
Minimum deposit - from 28 $
Return of the deposit at the end of
Net profitability - from 4.13% to 247.95%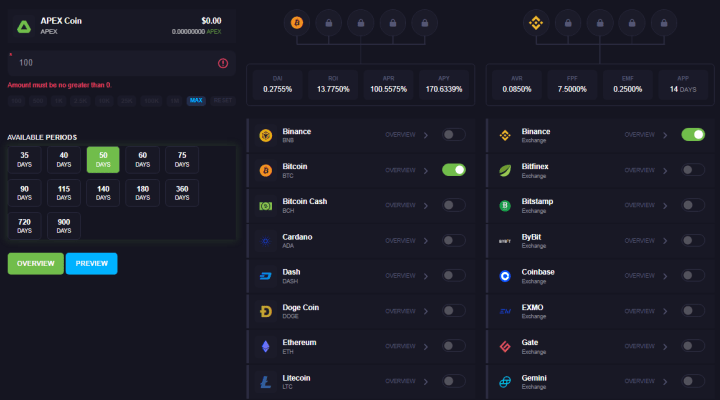 In the next group of Apex SYF plans, you can deposit funds at interest only in stablecoins with a minimum deposit of $50 or more. The investment period is available from 20 to 250 days with accrual from 0.411% to 0.7% per day with a return of the deposit at the end. The larger the amount and term of investment placement, the higher the yield.
0.411% -0.7% daily for 20-250 calendar days
Min / max contribution: $ 50 - $ 500000
Return of the deposit at the end of
Net profitability - from 8.22% to 175%

The most profitable in the line of all tariffs is the Apex LTCT group of plans, where it is proposed to make a deposit with an accrual of 0.7682% - 1.2778% within 40-90 days. Accordingly, the longer the deposit works, the more it will give profit both for the day and for the entire period. The minimum amount for activation is available from $250, the body of the deposit will also be returned to the balance at the end of the investment period.
0.7682% -1.2778% daily for 40-90 calendar days
Minimum deposit - from 250 $
Return of the deposit at the end of
Net profitability - from 30.72% to 115%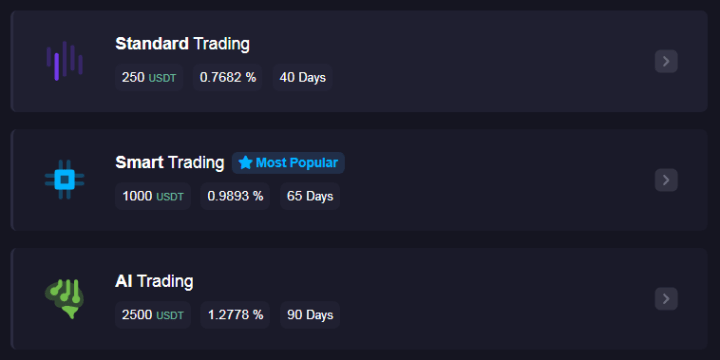 Technical part:
- Samopisnaya script
- DDoS protection from CloudFlare
— SSL encryption from Google Trust Services LLC (for 3 months)
- Unique design.
Detailed information on monitors with this project you can look at Allhyipmon
You can see the dynamics of deposits in the project at Investorsstartpage
Detailed contributions statistics and detailed technical analysis can be viewed at h-metrics
Payment systems: APEX Coin, USDT, USDC, BUSD, DAI, Bitcoin, Ethereum, BNB, Litecoin, Ripple, Bitcoin Cash, Monero, Tron, Dash, DogeCoin, Cardano, Quant, Solana, Polygon.
payment type: Manual (from 30 minutes to several hours).
The minimum withdrawal amount is from $5.
Commission for withdrawal - from 0.25% to 2.5% (depending on your status in the project).
Affiliate program (up to 5 levels):
The amount of additional rewards for attracted investments depends on your turnover and the rank you have received in the project.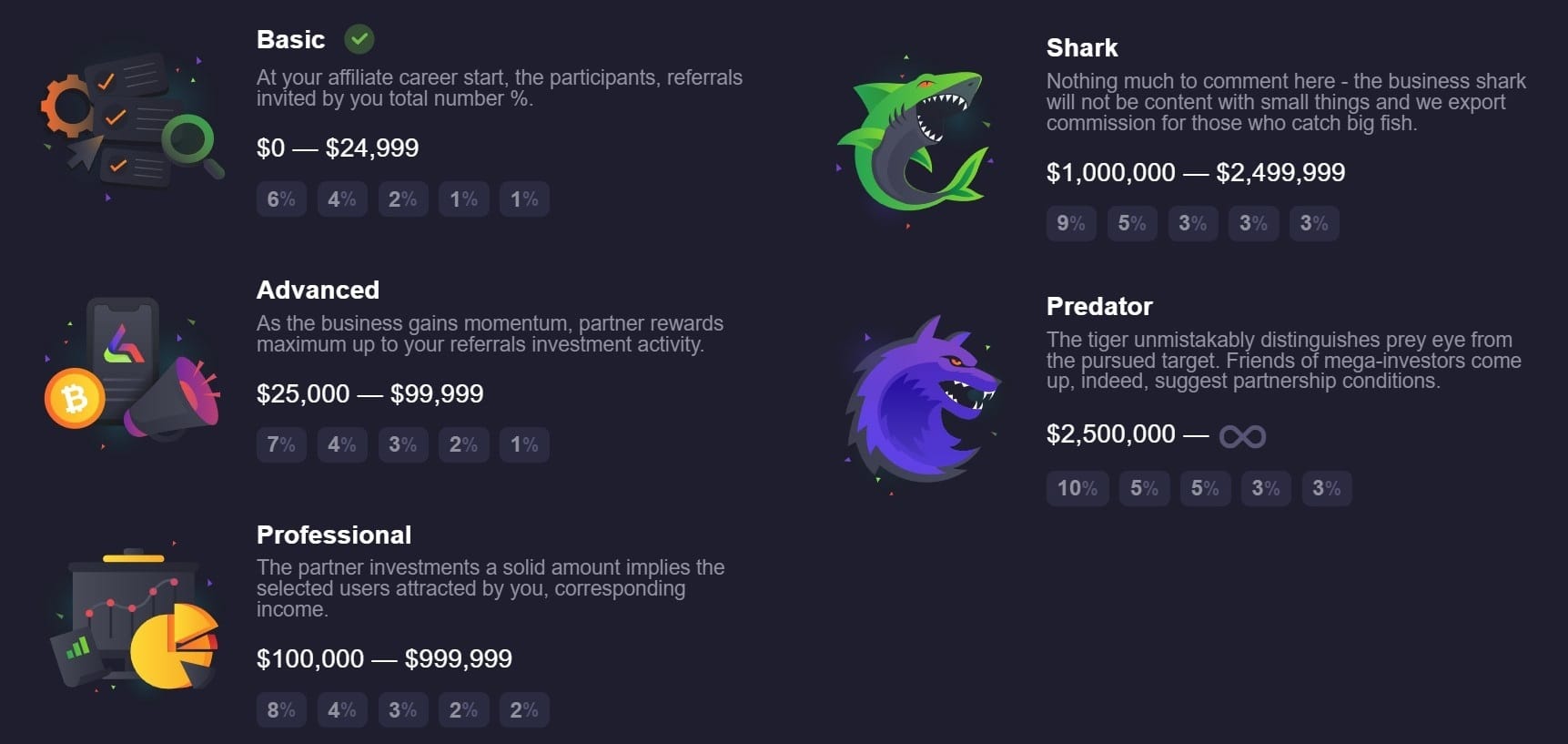 1. Basic: 6% -4% -2% -1% -1% (available immediately after registration);
2. Advanced: 7% -4% -3% -2% -1% (upon reaching a turnover of attracted investments of $25000 or more);
3. Professional: 8% -4% -3% -2% -2% (investment turnover from $100000 to $999999);
4. Shark: 9% -5% -3% -3% -3% (investment turnover $1000000 - $2499999);
5. Predator: 10% -5% -5% -3% -3% (investment turnover of $2500000 or more).
Active users who have paid for a subscription in the project to receive VIP or PRO status have the opportunity to expand not only the functionality, but also the affiliate line up to 5 levels in depth. Also, obtaining Shark and Predator ranks is available only after paying for a subscription.
Contacts:
Address, online support, phone, e-mail, telegram channel/chat, social networks Instagram, LinkedIn, Tiktok, Twitter, Facebook and Youtube.
Conclusion: I hope that the review managed to convey the key features of the project, since it will be difficult for beginners to figure everything out on their own. The Apex One cryptocurrency platform has feature-rich handwritten script capabilities and serious preparation with an application for universal recognition from potential investors. For participants who have paid a subscription, special attention and support from the fund, access to advanced functionality, low commissions and more profitable investment offers. For solidity, a roadmap, White Paper, presentations and video instructions in different languages ​​have been developed. It also has its own token, an internal exchanger and a large community. High-quality work has been done on external and technical characteristics, thanks to which the product looks expensive and attractive, focused on a foreign audience. Investment offers are multifaceted with a conservative yield from 0.11% to 1.28% per day and the return of the deposit body at the end of the term, the final profit depends on the parameters you choose. For referrals with teams, a multi-level affiliate program with ranks has been developed, active users have the opportunity to complete tasks on social networks and receive bonuses. In general, a site worthy of attention, has solid qualities and promising opportunities for long-term earnings, we recommend it. The project is on our portal under "Deposit Protection" until June 30, 2023 with a fund of $500. We offer our partners a refund of 4% of your deposit.
Subscribe to our channel Telegram - Subscribe
Chat with a daily distribution of money - Add
Order refbek with generous bonuses through our bot - Try
April 24, 2023