Review and reviews of the Bullwise.pro project. Working middleman with accrual of profit up to 5% per day (Personal choice).

We have created a fresh medium-term project for the blog, the attractive features of which we will consider in this overview issue. The site is managed by an experienced admin with profitable funds in his portfolio, and, accordingly, with a good reputation in the hyip industry. Marketing is balanced, tariff plans for every taste with affordable thresholds. Development from the start proceeds calmly, advertising is connected pointwise on well-known monitors and blogs, we recommend that you take a closer look.

BullWise (Project start: June 4 2022 years).
PERSONAL CHOICE! Experienced admin, gave a profit - I recommend!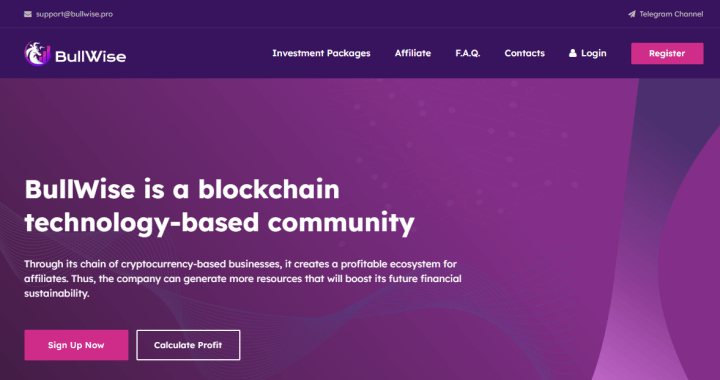 According to the legend BullWise is a community that is based on blockchain technologies and is engaged in mining, efficient trading of cryptocurrencies using a specialized trading robot, as well as the development of its own coin. Thanks to these areas, a sustainable business model is being created that allows the company to raise its financial position and work with investors in a safe mode.
Design the site can be attributed to the original because of its careful alteration from a template blank. The external interface is pleasant to look at, the site is adaptive for maximum usability on devices with different resolutions. The content is modest, poorly developed, the texts are prepared only in English. The functionality in your personal account is simple and intuitive, there is also an internal exchanger.
Investment line consists of 4 completely different plans, which are united only by the fact that each deposit body is included in payments. Depending on your choice, the frequency of accruals can be just a day from 2.5% for 60 days, or once a month up to 125% of the deposit amount for a period of 4 months. The minimum investment threshold is $25, the number of active deposits is not limited.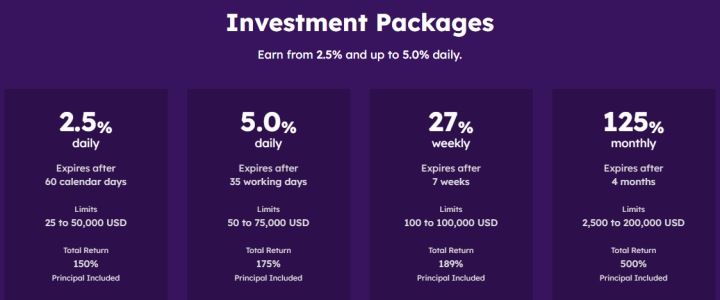 Plan 1
2.5 60% daily for days
Min / max contribution: $ 25 - $ 50000
Deposit included in payments
Total yield - 150%
Going through the breakeven 40 days
Plan 2
5% on weekdays for 35 business days
Min / max contribution: $ 50 - $ 75000
Deposit is included in the payment
Total yield - 175%
Going through the breakeven 20 days
Plan 3
27 7% weekly weeks
Min / max contribution: $ 100 - $ 100000
Deposit is included in the payment
Total yield - 189%
Breakeven after 4 weeks (28 days)
Plan 4
125 4% month on month
Min / max contribution: $ 2500 - $ 200000
Deposit is included in the payment
Total yield - 500%
Breakeven in 1 month (30 days)
Technical part:
- Samopisnaya script
- Domain redeemed for 3 years (until June 2024)
- Dedicated server
- DDoS protection Ddos-Guard
- SSL encryption from Sectigo (on 1 year)
- Unique design.
Detailed information on monitors with this project you can look at Allhyipmon
You can see the dynamics of deposits in the project at Investorsstartpage
Detailed contributions statistics and detailed technical analysis can be viewed at h-metrics
Discussion of the project on MMGP
Payment systems: PerfectMoney, USDT TRC20, Bitcoin, Ethereum, Litecoin, Ripple, USDT ERC20, Dogecoin, BitcoinCash.
payment type: Hand (up 24 hours).
The minimum amount for withdrawal: 0.0005 BTC, 0.01 ETH, 0.05 LTC, 5 XRP, 25 USDT ERC20, 1 USDT TRC20, 60 DOGE, 0.03 BCH.
Commission for withdrawal no.
Affiliate Program (four-level): 6% -2% -1% -1% on deposits of your referrals.
6% of the deposits of referrals 1-level
2% of the deposits of referrals 2-level
1% of the deposits of referrals 3-level
1% of the deposits of referrals 4-level
Representation Partner Program (four-level): 12% -4% -2% -1% on deposits of your referrals.
12% of the deposits of referrals 1-level
4% of the deposits of referrals 2-level
2% of the deposits of referrals 3-level
1% of the deposits of referrals 4-level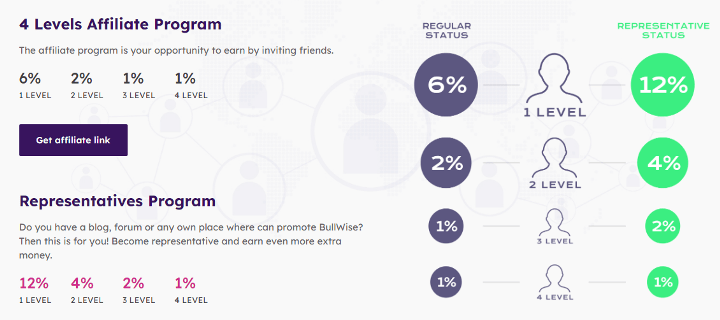 Registration on the Bull Wise website, creating a deposit and withdrawing funds:
1. Go to the site using the referral link of the blog and press the button "Sign up". Fill in the appropriate fields with your personal data, check the upline (should be "ProfitHuntersBIZ"), read the rules of the project and click "Sign up».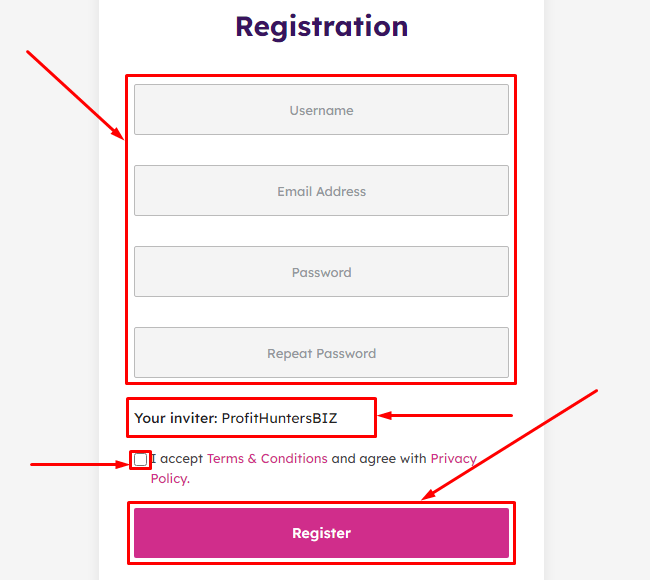 2. To invest in your personal account, click on the button "Invest". Specify a payment system, select an investment plan, enter the deposit amount and click the button "Invest».
3. To receive payment, go to the tab "Withdraw". Select a payment system, enter the amount and click the appropriate button to confirm the withdrawal.
Contacts:
Feedback form, e-mail, telegram chat / channel.
Conclusion: a fresh promising middle manager from an experienced foreign manager, with whom we have been cooperating for the first time and have received an excellent profit. Despite its good reputation and popularity, mass advertising has not yet been discovered, development is proceeding calmly and systematically. The investment part includes balanced plans with different features for accruals and profitability. Theoretically, all plans are working, most of them have affordable minimum thresholds, the average yield varies from 2.5% to 5% per day, including part of the deposit. We recommend taking into account the highest rate, namely 5% for 35 working days. The minimum wage is from $50, the payback will come in 4 weeks from the moment the deposit is activated. A number of advantages also include a representative program for active partners, the presence of many payments and an internal exchanger, a fresh start and competent development. Join now! The project is on our portal under "Deposit Protection" until July 18, 2022 with a fund of $500. We offer our partners a refund of 8% of your deposit.
Subscribe to our channel Telegram - Subscribe
Chat with a daily distribution of money - Add
Order refbek with generous bonuses through our bot - Try
7 June, 2022