Review and feedback of the Forwardbett.com project. Investments in betting for 20-100 days at 0.5% -1.5% per day.

At the start, we entered a non-standard investment project based on a telegram application that offers trust management services for betting with a declared profit of 10% to 150% in 20-100 days. The administration intends to work mainly with large investors from $ 1000 and above, there is a test one-time tariff, investments are available in cryptocurrency. According to rumors from colleagues, serious development is planned here not only with an online audience, but also with going offline. The project on the blog is designed in a VIP format, we took it under constant control, we suggest that you familiarize yourself with the review.

Forward betting (Project start: November 19 2020 years).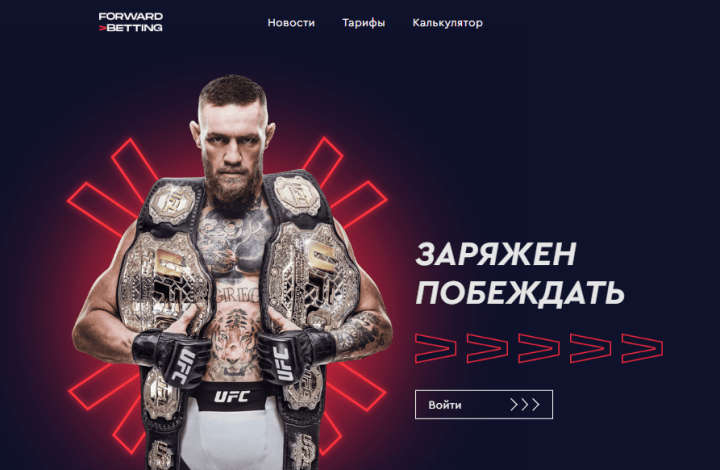 According to the legend ForwardBett has been betting for over 10 years and specializes in betting on sports events in the largest bookmakers. The company was created by experienced sports analysts who developed a unique forecasting methodology and became the founders of a new tool based on artificial intelligence, thanks to which forecasts have become more accurate, earnings are stable, and investments are safe.
Design The site looks original, but there is an obvious flaw in some functions and navigation. The site itself appeared recently and is a platform for the convenience of working with investments. Now each participant has the right to choose where it is more convenient for him to find information, on the website or in the bot. The functionality is almost the same, but in practice it is still easier to work with the site. The information in the sections will be gradually added, links to social networks will probably also be added later. There is an adaptive layout on the site, the content is translated into two popular languages, Russian and English.
Investment proposals include 6 tariffs with fixed contributions, in which the yield is set from 0.5% to 1.5% of the amount for 20-100 days. The minimum investment is available from $ 200. Profit is accrued every day according to the interest rate of the selected plan, the body of the deposit is returned at the end of the term. All calculations within the system are carried out using the internal Ball currency, the rate of which is equal to the dollar (1 BALL = 1 USD). A limited number of tariffs can be purchased at a time.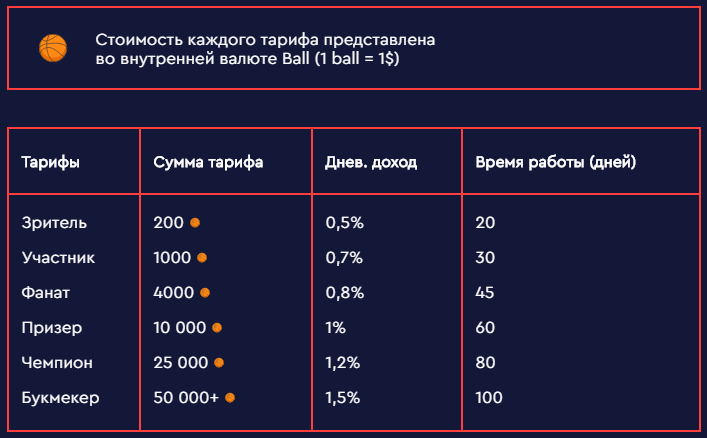 1. Spectator
0.5 20% daily for days
Fixed contribution: $ 200
Deposit at the end of
Net income - 10%
Only one purchase without renewal option
2. Participant
0.7 30% daily for days
Fixed contribution: $ 1000
Deposit at the end of
Net income - 21%
No more than two purchases at a time with the option of renewal
3. Fan
0.8 45% daily for days
Fixed contribution: $ 4000
Deposit at the end of
Net income - 36%
No more than two purchases at a time with the option of renewal
4. Prize-winner
1 60% daily for days
Fixed contribution: $ 10000
Deposit at the end of
Net income - 60%
No more than two purchases at a time with the option of renewal
5. Champion
1.2 80% daily for days
Fixed contribution: $ 25000
Deposit at the end of
Net income - 96%
Unlimited purchases
6. Bookmaker
1.5 100% daily for days
Fixed contribution: $ 50000
Deposit at the end of
Net income - 150%
Unlimited purchases
The project on the site or bot provides 2 balances: Primary и Transit... The main account will receive all accruals for plans, refunds of deposits, bonuses and bonuses for referrals. From the main balance, you can withdraw funds to the wallet or transfer them to the transit balance. From a transit account, you can transfer funds to another user or purchase a new plan.
Technical part:
- Samopisnaya script
- Domain redeemed for 2 year
- DDoS protection from CloudFlare
- SSL encryption from CloudFlare (on 1 year)
- Unique design
- Own telegram-bot.
Detailed information on monitors with this project you can look at Allhyipmon
You can see the dynamics of deposits in the project at Investorsstartpage
Detailed contributions statistics and detailed technical analysis can be viewed at Hyiplogs
Payment systems: Payeer, Bitcoin, Ethereum.
payment type: Hand (up 24 hours).
The minimum amount for withdrawal - 10 $, commission for withdrawal no.
The affiliate program includes 3 types of income:
1. Asset bonus - 5% one-time from the first purchase of personal partners.
2. Bonus liability - 3% daily of the profit of the entire structure.
3. Asset plus - 5% of every second purchase of the tariff by personal partners and 2% upon its extension.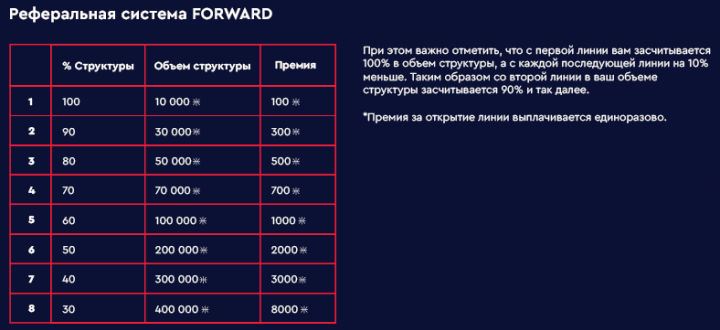 In addition to the affiliate program, a bonus system has been developed, in which a one-time bonus is paid in the amount of $ 100 to $ 8000 for achieving a certain structural turnover. Also, a "Quick Start Bonus" has been developed, where within 45 days after purchasing the package, upon reaching the bonus for the turnover, it will be paid to you in double amount.
Registration on the Forward Betting website, making a deposit and withdrawing funds:
1. To register, follow our link from the blog in the telegram bot and click "Start". Then enter the phone number, after which a login and password will be generated for you to authorize on the site.
2. You can invest both through telegrams and through the website. Go to the home page and click "Sign In«, Enter the data and go to your personal account. Top up your account in the section "TST Wallet"And buy the required tariff in the section"Tariffs ". The same operations, as well as transfer to other participants and withdrawal of funds, can be done in the telegram bot.

Contacts:
Email, online support and support via telegram bot.
Conclusion: a new investment site with a quiet start and smooth development. The project is based on telegram, however, you can work with investments both through a bot and using a website that is not yet fully completed and will gradually be equipped with new functionality and materials. Participants with a deposit of $ 200 at 0.5% per day for 20 days are allowed to invest. This tariff is a test one, you can earn 10% on it for the term, but it will no longer be available for reuse. To continue your participation in the project, you need to send at least 1000 USD, depending on the chosen plan, so this investment format is not suitable for many. The resource has prospects, there are rumors about an experienced administration and subsequent serious support from networkers. In any case, we have already entered the "Participant" tariff for a period of 30 days at 0.7% per day from the deposit, we recommend that you take a closer look. The project is on our portal under "Deposit Protection" until December 25, 2020 with a fund of $ 500. We offer our partners a refund of 7% of your deposit.
Do not forget about the new autumn Seasonal stocks from the portal.
Subscribe to our channel Telegram - Subscribe
Chat with a daily distribution of money - Add
Order refbek with generous bonuses through our bot - Try
21 November, 2020