Review and reviews of the Oilbnb.io project. Pleasant fast on a smart contract with accrual from 10% to 12% per day.

We have added an interesting fast to the portfolio, which works on the basis of a smart contract and accrues profits in real time. The smart contract was created on the BSC blockchain; popular wallets such as MetaMask or TrustWallet can be used to connect and work with investments. The investment part consists of two locations with levels that determine the amount of BNB deposit. The minimum threshold is available from 0.1 BNB, profitability ranges from 10% to 12% per day, payments are processed instantly. The project was launched more than two weeks ago, there are plans for development, we recommend that you familiarize yourself with it.

Oilbnb (Project start: October 31 2023 years).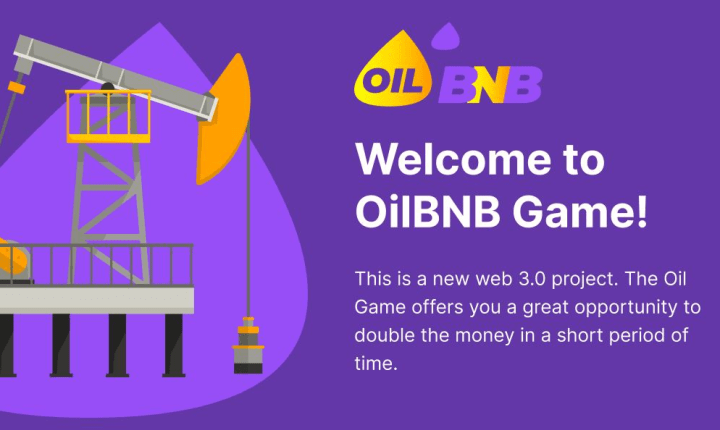 According to the legend The OIL BNB project is an online economic game in which participants have the opportunity to become a real oil tycoon and build their own empire. Thanks to modern game technologies and a secure smart contract, you can extract oil in various ways and earn real money.
Design The project has a pleasant gaming appearance with original content. To enter your account, you just need to connect your wallet; the interface of your office is clear and simple. The information part is prepared in English. New sections have been announced that bring new functionality to the project. There is a section with statistics on all deposits and payments, which determines maximum financial transparency.
Investment program consists of two plans, each of which includes 9 levels. Increasing the level means increasing the deposit amount with a fixed value. The minimum required deposit is 0.1 BNB to activate the investment; to top up the balance the minimum amount is 0.01 BNB. Depending on the plan, the deposit will work for 15 or 30 days, the total return should be 180% and 300%, respectively. Accruals on deposits are made every second, invested funds are included in payments and are not returned at the end of the term.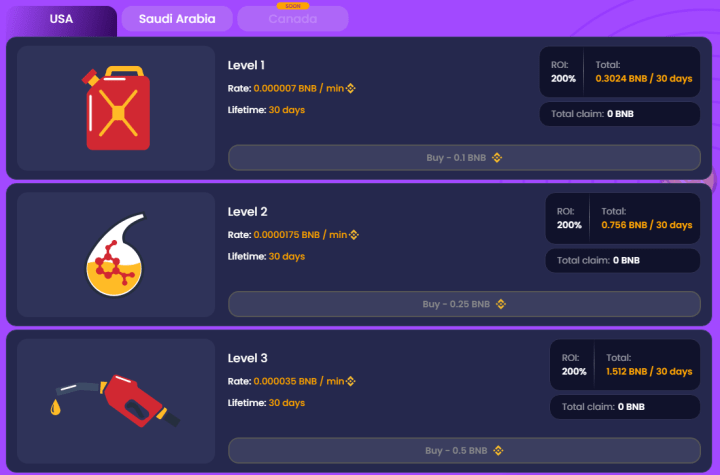 1. USA
10 30% daily for days
Min / max contribution: 0.1 BNB - 100 BNB
Deposit is included in the payment
Total yield - 300%
Going through the breakeven 10 days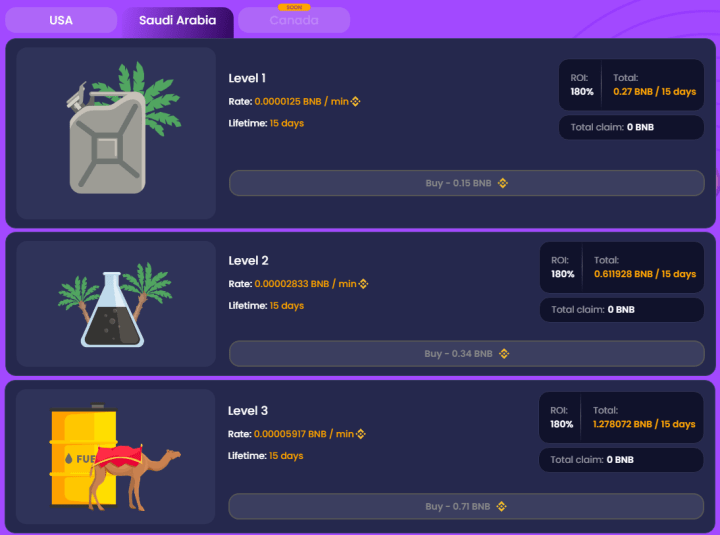 2.Saudi Arabia
12 15% daily for days
Min / max contribution: 0.15 BNB - 74.2 BNB
Deposit is included in the payment
Total yield - 180%
Breakeven in 8 days and 8 hours
* to activate the free level and receive 0.005 BNB per day for 30 days, you need to pay for any level under the USA plan.
Technical part:
- Samopisnaya script
- DDoS protection Ddos-Guard
- SSL encryption of Let's Encrypt (on 3 months)
- Unique design
Powered by a smart contract (smart contract address).
Detailed information on monitors with this project you can look at Allhyipmon
You can see the dynamics of deposits in the project at Investorsstartpage
Detailed contributions statistics and detailed technical analysis can be viewed at h-metrics
Payment systems: Binance Coin (BNB BEP20).
payment type: Instant (transaction processing on the network takes up to 15 minutes).
Minimum withdrawal amount — 0.01 BNB.
Commission for withdrawal no.
Affiliate program:
15% of the deposits of all your personally attracted referrals.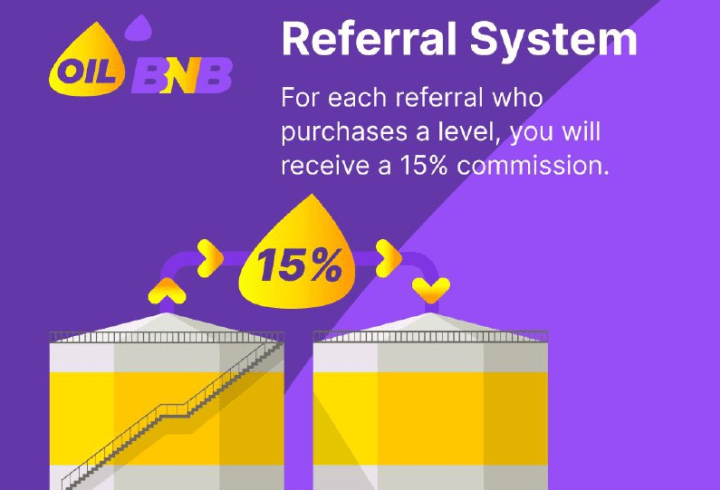 > > > Registration in Oil BNB < <
Refback 17% of the deposit amount and $500 insurance.
Registration on the OilBnb website, creating a deposit and withdrawing funds:
1. To register and work with your account, you do not need to enter any data, just click the "Connect» and connect any of the popular wallets with available funds.

2. After connecting, you need to top up your account balance. Determine your tariff plan, then click the "Deposit", enter the amount required to activate this plan and click "Deposit.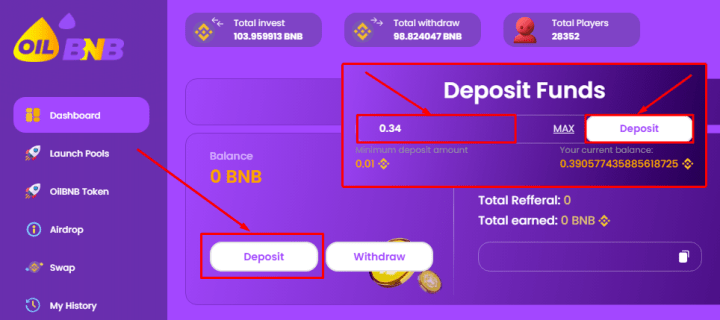 3. To activate the plan, select it from the list and make sure that there is an appropriate amount on your balance, then click the "Buy».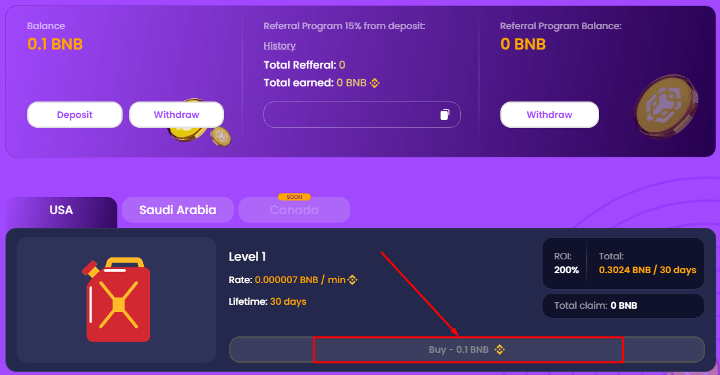 4. To withdraw accrued profit, click "claim", after which the funds will be credited to your balance for withdrawal. Next, click the "Withdraw", enter the amount and confirm the withdrawal by pressing the "Withdraw».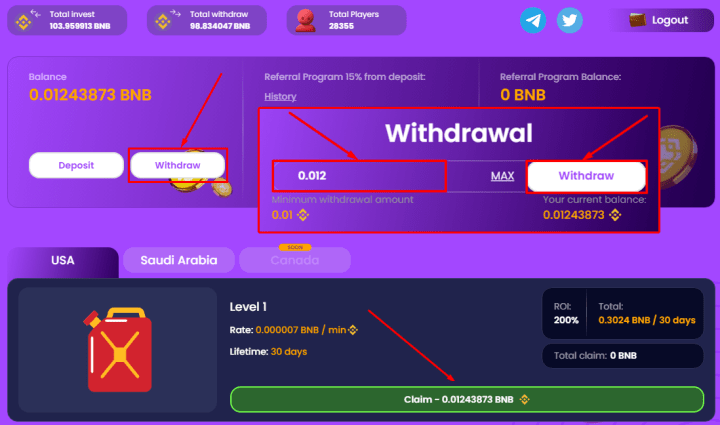 Contacts:
Online support, telegram, telegram chat, social network Twitter.
Conclusion: a simple and pleasant design, highly profitable project with transparent balance statistics, since all operations are carried out through a smart contract on the BSC blockchain. Marketing is very profitable due to the quick return on investment. In a week you can recoup your investment, receiving up to 12% per day and a high referral rate from the blog. Accruals are made every second, and all payments from the project come instantly after requesting a minimum amount of 0.01 BNB. As part of the development, the administration has developed a roadmap, according to which Launchpools, its own token, a large Airdrop of the token will be launched in the near future, it is also planned to launch an exchanger on the platform in the BSC network and a new line of tariff plans. The tasks set are big, I hope some of them will be completed, but we recommend that you participate in small amounts and monitor the work of the platform. The project is on our portal under perpetual "Deposit Protection" with a fund starting from $500. We offer our partners a refund of the referral commission of 17% of the amount of your deposit.
Subscribe to our channel Telegram - Subscribe
Chat with a daily distribution of money - Add
Order refbek with generous bonuses through our bot - Try
15 November, 2023