Review and reviews of the Trade-ae.com project. Foreign investment platform with accruals from 10% per day.

We continue to fill the portfolio with high-quality fast food, and this time a new investment project with eternal marketing is monitored, in which the profitability varies from 10% to 20% per day. By technical standards, the resource is well prepared, the design is unique. Development is going on actively, well-known monitors and blogs are connected. We go into the project at the very start, post it in the VIP format within the blog, we recommend that you take a closer look.

Trade And Export (Project start: November 8 2020 years). SCAM!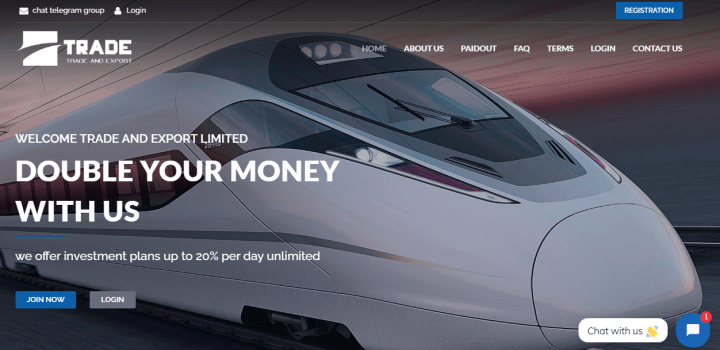 According to the legend Trade And Export is engaged in trading cryptocurrency assets on well-known world exchanges, distributing investment funds to traders' trading accounts. Capital management is carried out by an experienced team of professionals in the financial environment, who are interested not only in their own profit, but also in providing all their clients with a stable income. In the process of trading, unique strategies and automated programs are used, which allows you to achieve your goals. Trade And Export Limited is officially registered in the UK since May 20, 2020 (registration number: NI669584).
Design the site has a simple but neat appearance with high-quality original preparation. Let's immediately draw your attention to the lack of Russian-language localization, the site is presented only with an English translation of all content, so for convenience, use the capabilities of the online translators built into the browser. The resource is responsive and opens perfectly on any device. Website navigation is quite practical, the personal account is visually pleasant and intuitive to use.
Investment Plans stand out with very high charges from 10% to 20% per day and an unlimited period of validity. The minimum deposit amount is available from $ 10, which is a symbolic threshold that is subject to each user. The final profitability is mainly influenced by the size of the investment, the more invested, the higher the daily profit. The first plan is the most working, accessible and popular among the participants. The deposit is not limited in number and is included in daily charges without the ability to pick up the denomination at any stage of the project.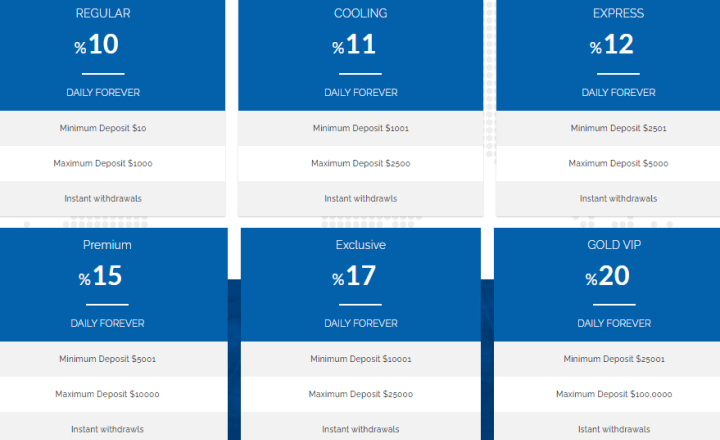 Accruals: from 10% to 20% per day
Min / max contribution: $ 10 - $ 100000
Deposit is included in the payment
The term of the deposit - indefinitely
Expected return - from 70% to 140% per week
Exit to breakeven within 10 days
10% daily with a deposit of $ 10 - $ 1000
11% daily with a deposit of $ 1001 - $ 2500
12% daily with a deposit of $ 2501 - $ 5000
15% daily with a deposit of $ 5001 - $ 10000
17% daily with a deposit of $ 10001 - $ 25000
20% daily with a deposit of $ 25001 - $ 100000
Technical part:
- Licensed script GoldCoders
- Dedicated server
- DDoS protection Koddos
- SSL encryption from Sectigo (on 1 year)
- PM-Verified Account
- Unique design.
Detailed information on monitors with this project you can look at Allhyipmon
You can see the dynamics of deposits in the project at Investorsstartpage
Detailed contributions statistics and detailed technical analysis can be viewed at Hyiplogs
Discussion of the project on MMGP
Payment systems: Perfect Money, Payeer, Bitcoin, Ethereum, Litecoin, Dogecoin.
payment type: Instant.
The minimum withdrawal amount is $ 0.1 (for cryptocurrencies - $ 5).
Commission for withdrawal no.
Affiliate Program (duplex): 5% -1% on deposits of your referrals.
5% of the deposits of referrals 1-level
1% of the deposits of referrals 2-level

Contacts:
Feedback form, e-mail, online support, telegram, telegram chat.
Conclusion: a highly profitable novelty with lifelong marketing, where 6 tariff plans are presented, broken down by the amount of the contribution. It directly depends on the amount what percentage you will receive. In our project, the profitability ranges from 10% to 20% per day. We recommend staying in the foreground with an unlimited charge of 10% per day, the minimum deposit is available from $ 10. The list of payment systems is the most optimal, deposits and withdrawals of funds are processed instantly. For deposits in crypto, you just need to wait for the confirmation of the transaction by the network. We participate from the start, thereby we get a significant advantage and a chance to quickly break even. If you plan to enter only now, play with small amounts, besides, you can always knock on a personal and ask for advice, if possible, we always give up-to-date information. Profit everyone! The project is on our portal under "Deposit Protection" until November 20, 2020 with a fund of $ 500. We offer our partners a refund of 7% of your deposit.
Do not forget about the new autumn Seasonal stocks from the portal.
Subscribe to our channel Telegram - Subscribe
Chat with a daily distribution of money - Add
Order refbek with generous bonuses through our bot - Try
8 November, 2020