Review and reviews of the Vilari.io project. Profitable middleman with an accrual of 3.2% within 55 days (Personal choice).

In the next review on the topic of hyip investments, we will consider the fresh medium-income asset Vilari, which was founded by an experienced admin. A good level of preparation and competent promotion in the right places immediately catches the eye. Marketing is simple and profitable with a single offer of 3.2% daily for 55 days. Quick payback is captivating, many payments are available, the minimum wage is available for everyone, we recommend.

Vilari (Project Start: May 21 2022 years).
PERSONAL CHOICE! The admin gave a good profit in the last project - I recommend!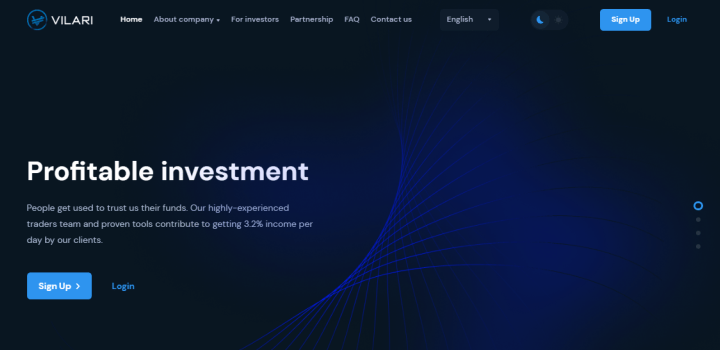 According to the legend Vilari is professionally engaged in cryptocurrency trading on well-known world exchanges, as well as in other areas related to blockchains, the NFT market and other modern assets. Thanks to its proven strategies, the optimization of special bots and the development of its own safe investment algorithms, the company has achieved high results and plans to expand its business. Vilari LTD has been officially registered in the UK since April 4, 2022 (registration number: 14022144).
Design the site is unique, made with high quality and modern, supports adaptability. You can switch between light and dark theme to your liking. The content is interesting and organic, there is an excellent promo, development roadmap and other documentation. The language bar supports two languages: English and Vietnamese. The personal account has classic functionality, convenient and easy to understand.
In marketing The project includes only one investment plan, under the condition of which a daily accrual of profit of 3.2% is required for 55 days. The minimum deposit amount is available from $10, the number of active deposits is not regulated. The body of the deposit is included in payments and is not returned at the end of the investment period.

3.2 55% daily for days
Min / max contribution: $ 10 - $ 100000
Deposit is included in the payment
Total yield - 176%
Exit to breakeven over 32 days
Technical part:
- Licensed script GoldCoders
— Domain purchased for 5 years (until October 2026)
- Dedicated server
- DDoS protection from CloudFlare
- SSL encryption from DigiCert (for 1 year) + GreenBar
- Unique design.
Detailed information on monitors with this project you can look at Allhyipmon
You can see the dynamics of deposits in the project at Investorsstartpage
Detailed contributions statistics and detailed technical analysis can be viewed at h-metrics
Discussion of the project on MMGP
Payment systems: Perfect Money, Epaycore, Bitcoin, Ethereum, Litecoin, Dogecoin, Tether USDT (TRC20, ERC20, BEP20), BNB, Tron, Bitcoin Cash.
payment type: Hand (up 24 hours).
The minimum amount for withdrawal: 1$ (for PerfectMoney, ePayCore, LTC, DOGE, USDT BEP20/TRC20, TRX, BNB); $10 (BTC, BCH); $20 (ETH) $30 (USDT ERC20).
Commission for withdrawal no.
Affiliate program (multi-level): depends on your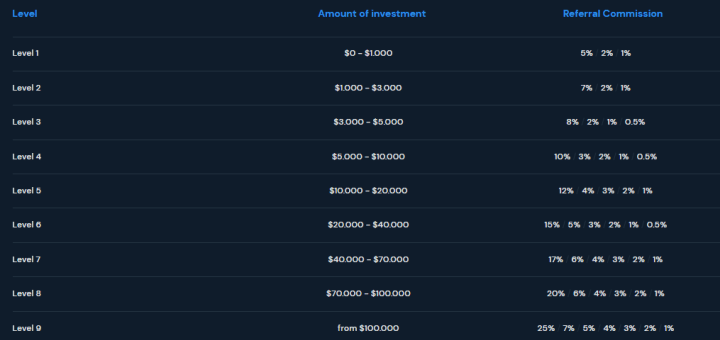 5% -2% -1% (turnover $0 - $1000)
7% -2% -1% (turnover $1000 - $3000)
8% -2% -1% -0.5% (turnover $3000 - $5000)
8% -2% -1% -0.5% (turnover $3000 - $5000)
10% -3% -2% -1% -0.5% (turnover $5000 - $10000)
12% -4% -3% -2% -1% (turnover $10000 - $20000)
15% -5% -3% -2% -1% -0.5% (turnover $20000 - $40000)
17% -6% -4% -3% -2% -1% (turnover $40000 - $70000)
20% -6% -4% -3% -2% -1% (turnover $70000 - $100000)
25%-7%-5%-4%-3%-2%-1% (turnover of $100000 or more)
Registration on the Vilari website, creating a deposit and withdrawing funds:
1. Go to the site using the referral link of the blog and press the button "Sign Up". Fill in the appropriate fields with your personal data, check the upline (should be "ProfitHuntersBIZ"), enter the captcha, agree to the terms of the project and click "Registration».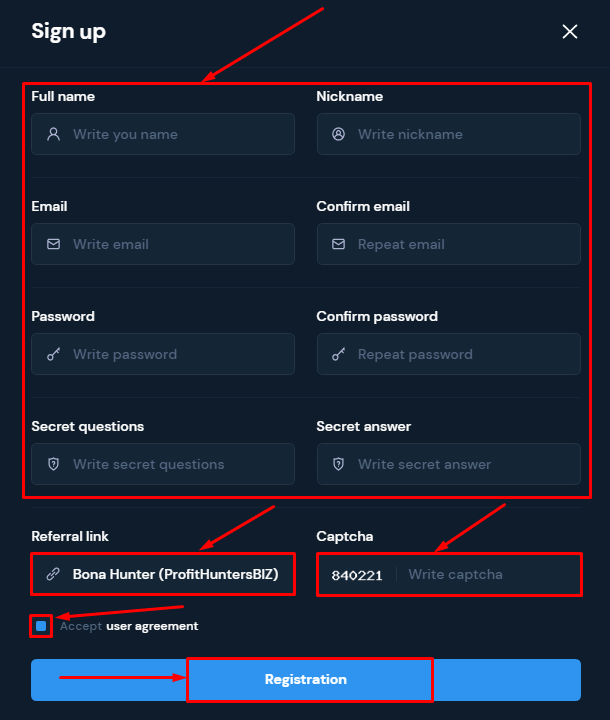 2. To invest in your personal account, go to the tab "Open deposit". Read the investment plan, specify the payment system, select the payment method, enter the deposit amount and click the "Pay now". Next, check the data on the deposit and confirm with the button "Process».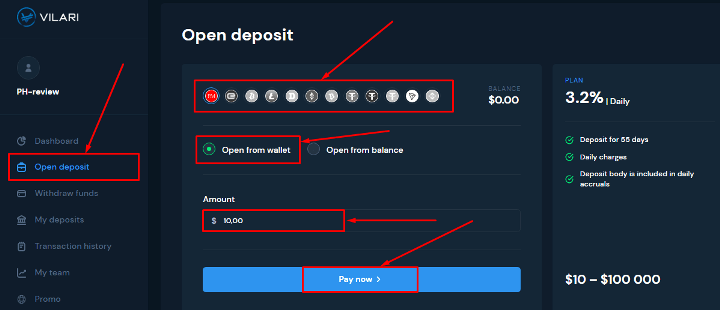 3. To receive payment, go to the tab "Withdraw funds". Select a payment system, enter the amount and click the appropriate button to confirm the withdrawal.
Contacts:
Address, feedback form, e-mail, phone, online support, telegram, telegram-chat/channel, social networks Facebook and Youtube.
Conclusion: a noteworthy middleman from a working admin, who made good money in the last project. According to numerous parameters, the site has positive qualities, the technique and design are normal, advertising is connected smoothly. Investments are accepted for 55 days using a large selection of payment instruments, profit on deposits is accrued 7 days a week and is included in payments. The exit to breakeven comes in a month, and the net income is 83%, taking into account our refback. In general, the project looks like a working one, the advantages outweigh, besides, there is an insider about an experienced admin, so we add a blog to the Personal choice and tune in to profit. The project is on our portal under "Deposit Protection" until July 1, 2022 with a fund of $500. We offer our partners a refund of 7% of your deposit.
Subscribe to our channel Telegram - Subscribe
Chat with a daily distribution of money - Add
Order refbek with generous bonuses through our bot - Try
May 26, 2022