Review and feedback of the NFT project Bohemian-bulldogs.com.

In today's review on the Profit Hunters blog, we will analyze an interesting project Bohemian Bulldogs from the NFT industry, which has already attracted a huge number of users on social networks and will hold a presale and then a sale of its collection literally this week. What they are for and how to purchase them, you will learn from the review, we recommend that you familiarize yourself with it to the end.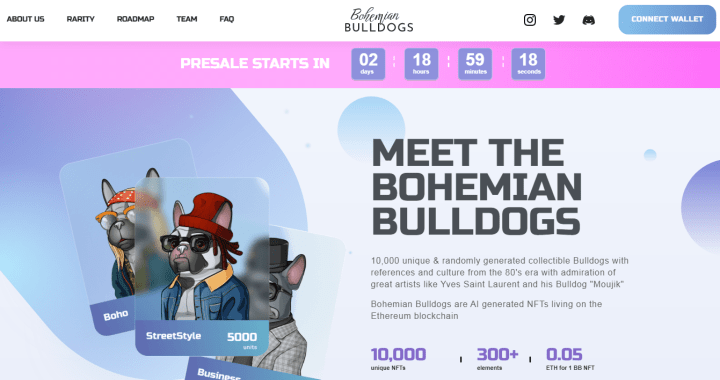 Project Bohemian bulldogs Created by a team of marketers, entrepreneurs, designers and experts in blockchain technology, who created a collection of NFT Bulldogs with original designs, inspired by the fashion of the 70s and 80s and the work of YSL artists and Andy Warhol, who loved this dog breed. Their addiction to their favorite animals prompted the team to create a collection of their own NFTs, assembled by artificial intelligence. An interview with the technical director of the project can be viewed by link.
Total in the collection of 10000 unique NFT tokensreleased in 5 different styles, which determines the rarity of the provided bulldog, and accordingly its further cost: street style (5000 units), Bohemian (2500 units), Boho (1500 units), Business (900 units), Capsule collection ( 100 units). Each Bohemian Bulldogs image consists of at least three elements. In total, the collection contains more than 300 elements, including over 200 outfits, more than 20 hats, glasses, emotions and much more, allowing you to generate more than 1 billion combinations.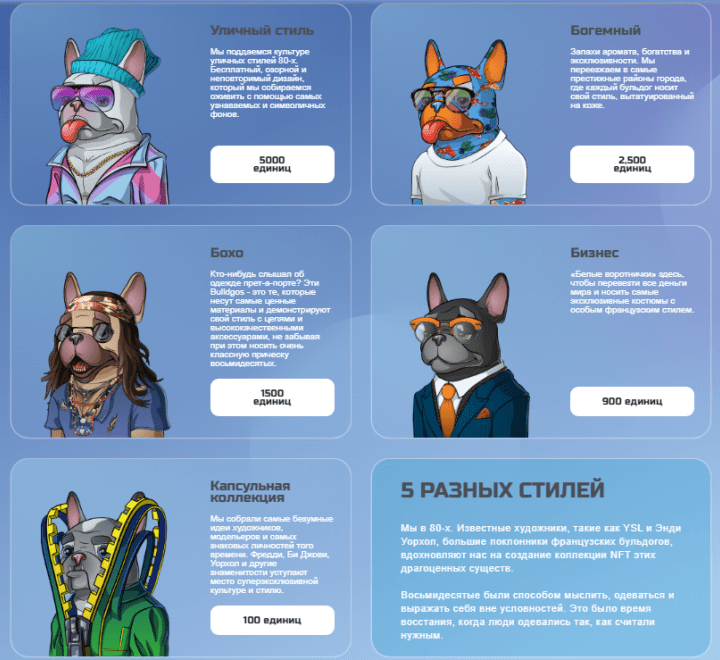 Buy NFT available during the pre-sale on October 16th. Whitelisted members only Discord channel and BB partners will be able to buy them within 24 hours at a minimum fixed price of 0.05 ETH. In total, 40% of the total number of NFTs is allocated for pre-sale. The number of wallets is limited to no more than 1000, up to 2 NFT units will be available for one user. The open sale will begin the next day, October 17, with a price increase of up to 0.09 ETH per NFT. Maxim can buy 5 bulldogs for one wallet. The purchase takes place on the project website after connecting the wallet. When all tokens are sold out, they can only be bought and sold on secondary exchanges.
Referral Program allows you to return 10% of each NFT purchase by your partners who went to the site using your referral link. For each NFT, you are assigned 1 point, which is equal to 0.005 ETH. The minimum amount available for withdrawal through the referral program is 0.025 ETH, so you need to collect at least 5 points. Also, for every 100 invited minters, you will receive a random Bohemian Bulldog NFT token for free.
Registration and purchase of NFT on the Bohemian Bulldogs website:
1. To register, it is enough to connect your crypto wallet to the site. To do this, log into your Metamask, follow the referral link from the blog to the official website and click "Connect Wallet".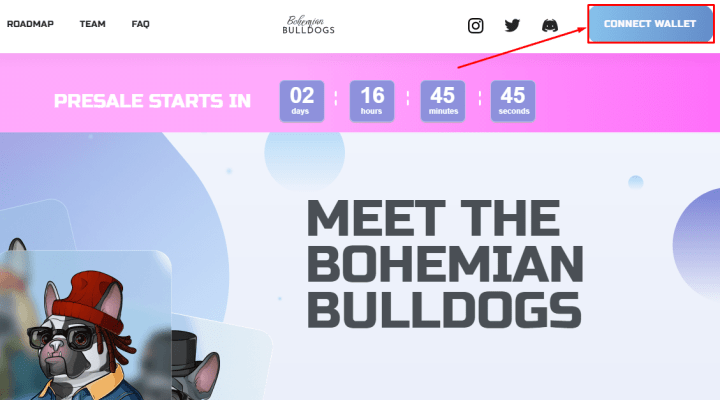 2. Select a connection method using a browser extension or a QR code via a mobile phone, specify a wallet with a sufficient amount on the balance for a purchase, click the "Next" button and then "Connect".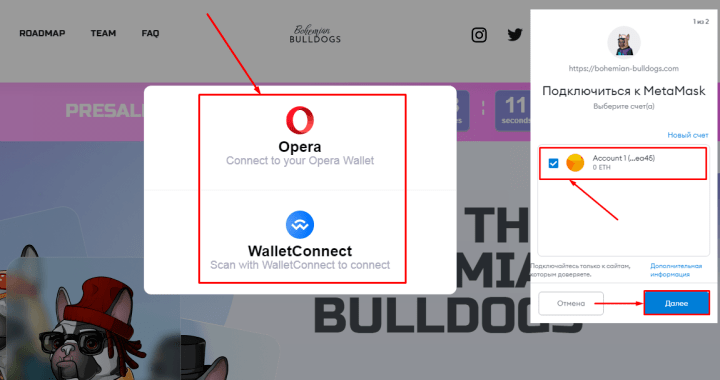 3. To buy NFT, enter the number of Czech Bulldogs you need on the website and click the Buy button. The button will become operational when the administration opens access to the address of the smart contract, namely on October 17, a public sale is expected. If you are a member of the project channel in Discord and got into the whitelist list, you will get access to pre-sale on October 16, and you will be able to purchase NFT a day before the others. Take into account that the wallet has the required amount, including gas, for sending a transfer on the Ethereum network.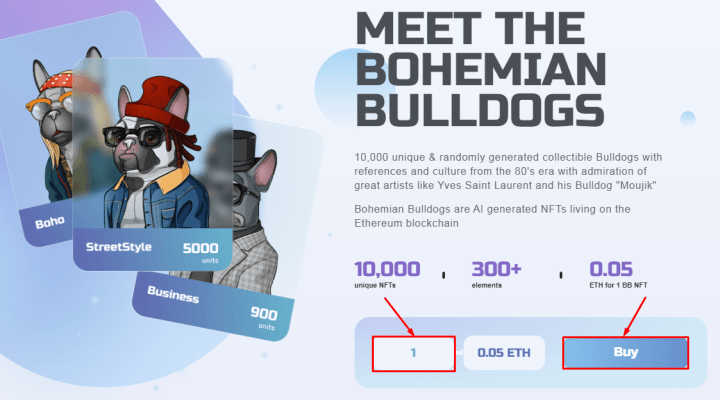 Conclusion: Bohemian Bulldogs project has high-quality and promising NFT tokens, which will go on sale in the near future. Since the NFT market is now at its peak of popularity, you should not miss such opportunities for earning money. At least, if you do not play for a long time and do not become a collector of bulldogs, then it will be most profitable to buy NFT during the pre-sale period and sell it later at double the price or even higher, while there is demand. The community of the project is quite powerful, only in Discord there are more than 21000 members, almost 15000 more on Twitter and a little over 4000 on Instagram. After the public sale of NFT, the administration plans to use energy to develop the project. NFT Bulldog owners will have many privileges: participating in competitions and contests, getting exclusive products, inviting to offline meetings in 2022 and much more. The development of a new NFT collection in the form of females and puppies is also expected, and owners of bulldogs will be able to get them absolutely free. In the process of development, it is expected to launch its own decentralized application for comparing and analyzing NFT projects, creating a token, listing on DEX, developing a financial game within the ecosystem and implementing other ideas from the community that will help popularize the project.
Subscribe to our channel Telegram - Subscribe
Chat with a daily distribution of money - Add
Order refbek with generous bonuses through our bot - Try
14 October, 2021