PassimPay: Overview. Simple, fast, safe. For any purpose.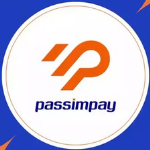 As cryptocurrencies develop, new tools appear that make digital assets available to all users, wherever they live. It is thanks to their accessibility and versatility that cryptocurrencies have become so popular and are gradually conquering the world. And at the heart of general availability are always convenient tools, thanks to which any user can use cryptocurrency, regardless of their level of education. Even a schoolboy.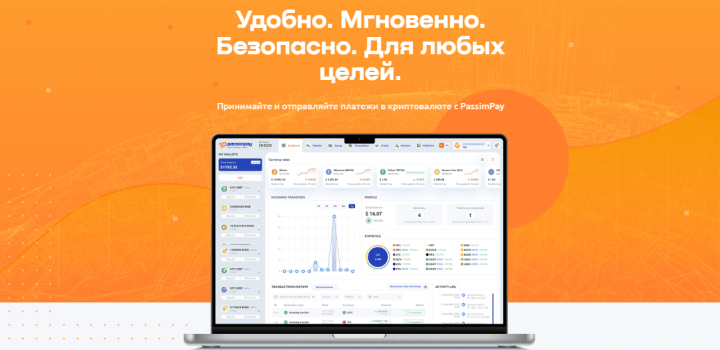 The payment system has become such a simple and affordable tool. PassimPay. But one simplicity and ease of use for the payment system is not enough.
PassimPay developers pay great attention to the security of the payment system. Users need to be sure that their money is securely protected. For security, two-factor authentication, an SSL certificate, and powerful DDoS protection from Cloudflare are provided.
Fast, convenient, safe - this is the motto of PassimPay. Fast for PassimPay means instant. All payments in the payment system are processed instantly. No matter where in the world PassimPay users send digital assets, they will be received instantly.
Additional advantages of PassimPay include confidentiality, since no identity documents are required for registration. It is enough to specify only the login and password.
For users, it is of paramount importance how much money they pay for using the service. There is no deposit fee. The withdrawal fee ranges from 0.1% to 1% depending on the state of the network.
For business and personal purposes
The versatility of PassimPay is based on ease of use. It is for this purpose that PassimPay developers decided to create two types of accounts: for business and for personal use.
When working with a payment system, a business pursues other goals than a simple user. For businesses, convenience for their customers, ease of receiving funds is important.
Ordinary users need to quickly and conveniently make money transfers, be able to safely send digital assets anywhere in the world. At the same time, the security of transfers and their price are of great importance. Only by being accessible to all, the cryptocurrency will gain worldwide distribution and popularity.
The main task of PassimPay is to create a product that everyone needs.
Supported Cryptocurrencies
At the moment, the PassimPay payment system supports more than 15 of the most used cryptocurrencies.
Among them: BTC, ETH, USDT, BNB, USDC, ADA, DOGE, SHIB, BUSD, LTC, TRX, BCH, EOS.
Over time, as the payment system develops, new cryptocurrencies will be added if necessary.
Additional security
There is not much security. Users must be sure of the safety of their funds. For added security, PassimPay uses a network and application firewall, two-factor authentication, IP tracking, intrusion detection protocol, a master key for access recovery, an SSL certificate for security, and strong DDoS protection from Cloudflare.
Partnership program
The Affiliate Program is a great opportunity to generate passive income for all PassimPay users and promote PassimPay worldwide. The income from the affiliate program is determined as a percentage of the amount of the commission that the invited partner pays when withdrawing funds from the payment system.
Affiliate commission is 5% - 7% -10% for each level. The first level of 5% is available to all users. The second level of 7% is suitable for those whose total partner withdrawal amount exceeds $500. The third level of 000% is reached when the total withdrawal amount of partners reaches $10.
Features of a personal account
A personal account is suitable for all PassimPay users who use the payment system for personal purposes to store their cryptocurrencies and make payments around the world instantly, securely and at a low cost.
To achieve these goals, the following tools and functions are provided:
Implementation of instant payments.
Confidentiality. To work with the payment system, you do not need to provide personal data, just enter your email and password.
Secure storage provided by the following tools: a master key for password recovery, two-factor authentication, an SSL certificate for secure transfers and Cloudflare protection.
Low commissions: commission for replenishment: - 0%, commission for withdrawal - from 0,1% to 1% depending on the state of the network.
Additional features: notification settings, enabling / disabling additional security layers.
Business account features
A business account is specially created for online stores, online projects and companies that plan to accept payments in digital assets when running their business.
For this purpose, the following mechanisms are provided:
Simple and fast API integration with instructions and code samples for ease of use.
Analytical reports when maintaining an account to control income and expenses and track statistics in various areas of activity.
Instant notifications of new transactions and messages from the support team.
Automatic payments, whitelisting, customizable templates.
Low fees: Deposit fee: 0%, Withdrawal fee: up to 3,5% depending on network conditions.
Blog
All the news of the PassimPay payment system, as well as detailed instructions for registering and working with accounts can be found in the blog.
Contacts
To learn more about the work of the PassimPay platform, it is recommended to contact Support Center. If you did not find the answer to your question provided contact page.
Support service: support@passimpay.io
For business: ceo@passimpay.io
Social networks:
March 24, 2023