Get daily help in making investment decisions will help you DANEEL.IO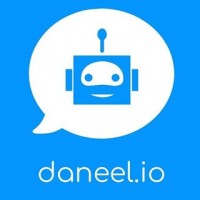 Do you want to buy crypto currency? But because of the huge flow of information you are not oriented. Set aside anxiety aside, Daneel will help you. He will conduct research, collect and analyze all the necessary information on the Internet and social networks. Daneel has powerful artificial intelligence, so it sorts the relevant data and finds the best information and reliable answer for you. Remember when you need important information Daneel.io will help you easily manage your investment portfolio and find your way in the crypto jungle.
Daneel - is a personal assistant, is based on IBM Watson, one of the most effective artificial intelligence in the market, which will daily provide the necessary information for investment crypto currency.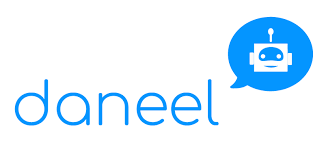 thanks Daneel.io you will have access to an intelligent consultant capable of:
Understand and interact with you
Store information in real time, with information that he collected and analyzed himself
Identify and record various emotions in the market
Warn you as soon as one of your investments is threatened
Facilitate simplification of control and portfolio management.
Provide daily recommendations regarding your investments and market trends
Provides individual indicators
This is the goal that Daneel.io has set for itself. Daneel as a personal assistant will be as personalized as possible for each user.
Ensuring the security of your data
How can information security be ensured? How can you limit the risk of a hacking attempt? What security measures should be put in place between the user and the Daneel ecosystem? The mobile application as well as the web platform will have to remove important security restrictions and therefore external services and partners. Daneel teams will strive to monitor all services and questions and answers to ensure reliable exchanges with our ecosystem APIs as well as our partners.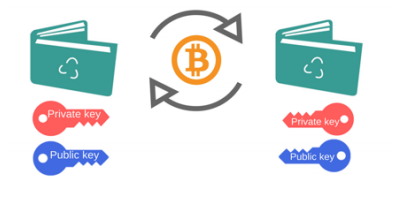 Daneel is aware of everything
Collect, combine and analyze information, the monitoring concept is at the heart of Daneel.io
To begin with, Daneel searches, browses, compiles and analyzes various sources of information available from various online channels: news feeds, media, specialized media and social networks. After gathering information, it sorts and classifies all relevant data to offer only the necessary information considered highly reliable and effective.
Trust settings for crypto currency
Our artificial intelligence will use a specially designed algorithm to calculate the "trust score" by analyzing exchange rates, recent events and perceived emotions of users on social networks. A ten-point school will be developed, which will reflect from 1 to 10 the reliability of the currency at the moment. This will give investors a correct understanding of the risk associated with an investment.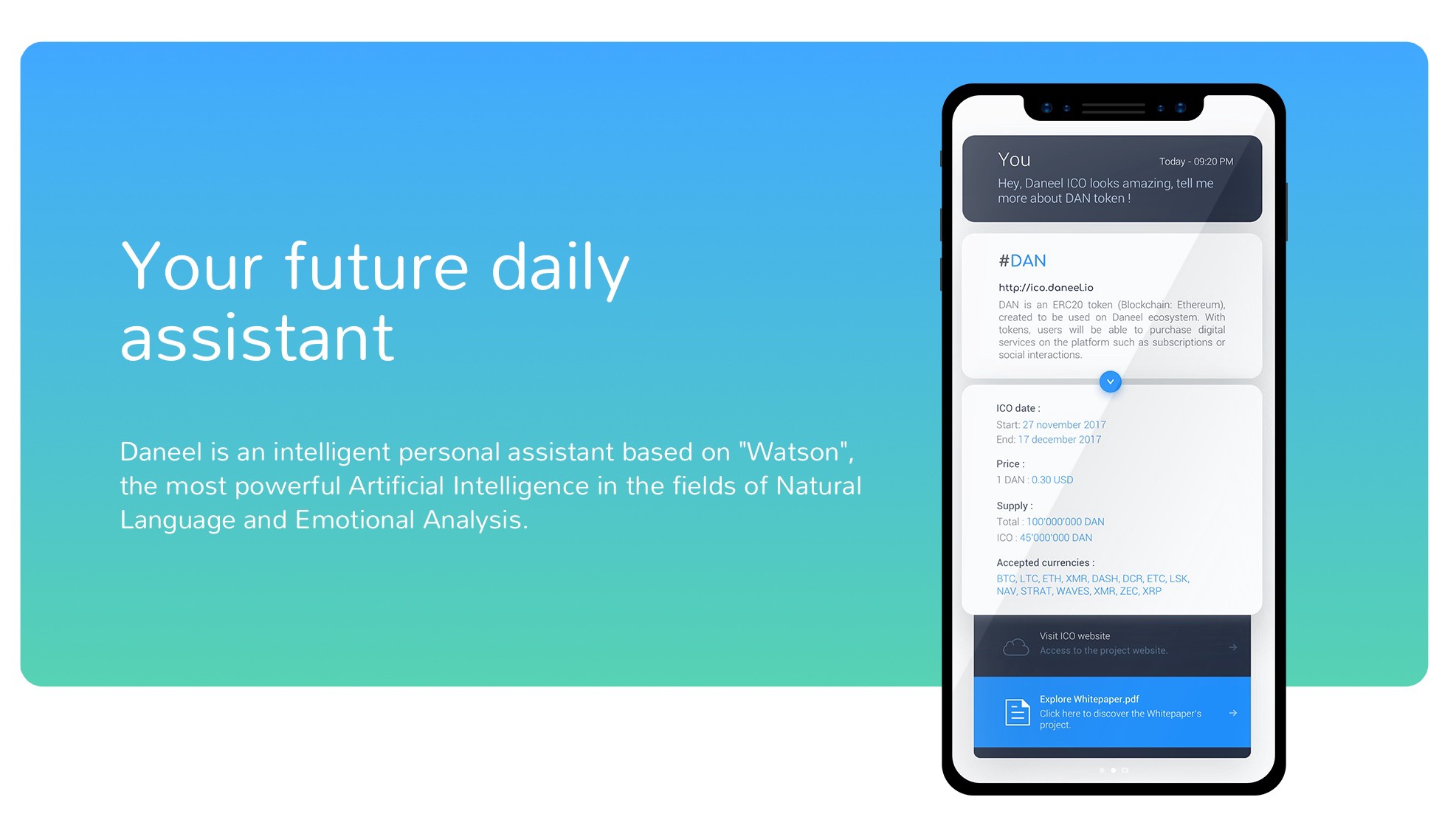 Portfolio management made easy
Add your account via API keys and then move on to your investments in real time ... Daneel provides you with daily guidance on how to manage your investments. You will be immediately notified if your investment fluctuates or if there is information that could affect one of your investments!
How can you access Daneel?
These services and functionality will be available through the web platform and mobile application, directly on the website www.daneel.io or via a downloaded mobile application that will be available in the future.
DAN TOKENS
DAN tokens will be at the center of the use of our intelligent helper. Indeed, they will allow the user:
Subscribe to a monthly service that allows you to use all the functions of Daneel
Interact with the platform and users
The process of subscribing to the system:
The application and services of Daneel will be available only to users registered on the platform. There are two types of subscription available. Subscription Free and Full.
DAN TOKENS for sale
The tokens available for use by the Daneel Assistant Company are accompanied by a Responsibility to Act that the company has. This duty to act is to develop and provide wide access to the public of investors - an intelligent assistant designed for the world of cryptocurrency.
Presentation of DAN tokens
Daneel toners (DAN) will only be used to subscribe to the intelligent assistant services offered by Daneel's Assistant. The total stock of DANEEL tokens is limited to 100 000 000 tokens. The process of selling DAN tokens will be performed in two stages. During December 2017 and January 2018 year.
The preliminary phase of ICO: from December 04 to 08 December 2017 year
Sales phase: from 29 January 2018 on 5 March 2018 year
In total, 100 000 000 tokens was created.
Distribution:
60% of tokens, that is 60 000 000, will be on sale during the duration of the ICO
After the ICO, all non-traded tokens will be disposed of.
7,5% tokens, that is 7 500 000, will be stored in the company's reserve. These tokens can be sold in the future.
20% tokens, that is 20 000 000, will be distributed to interested parties.
5% tokens, that is 5 000 000, will be distributed among external investment enterprises.
5% of tokens, that is 5 000 000, will be distributed within the reward program.
2.5% tokens, that is 2 500 000, will be distributed within the framework of social rewards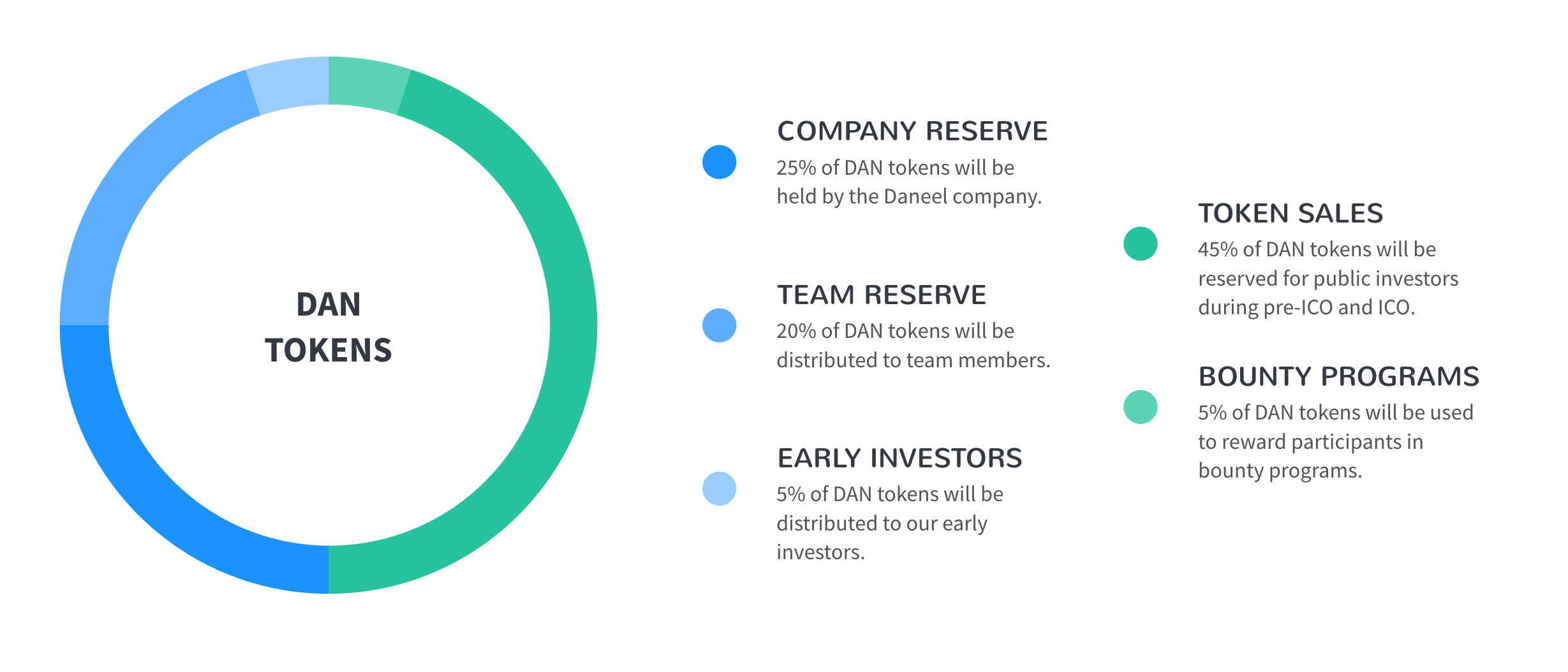 Sharing tokens
Tokens can be exchanged on different platforms specializing in crypto currency.
Bonuses at the time of sales
To reward our first users, we offer a bonus program:

road map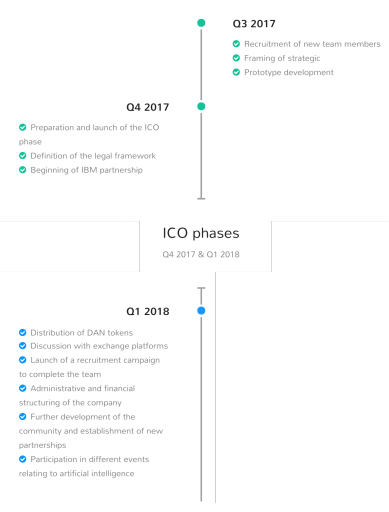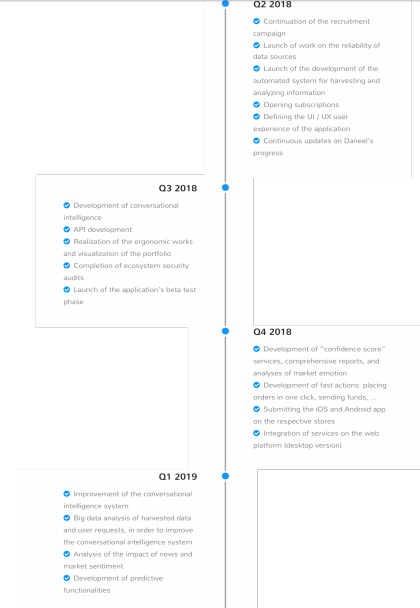 Team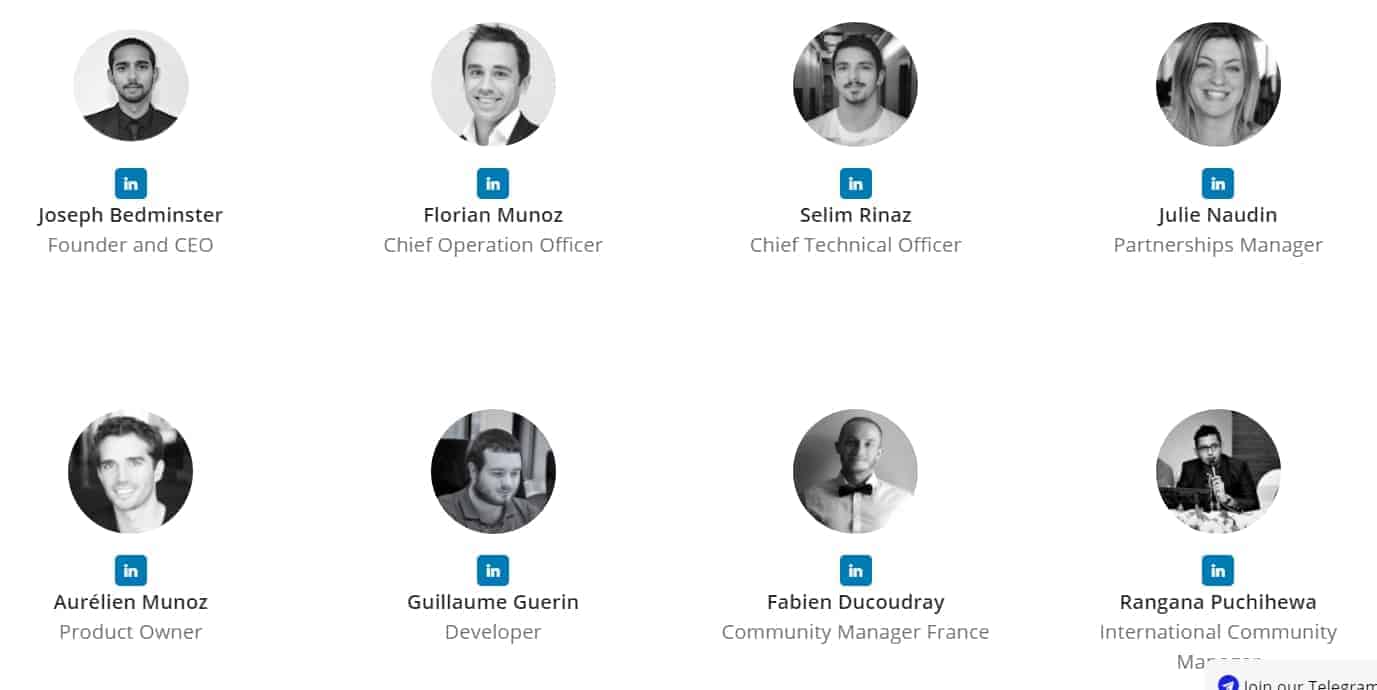 references
WEBESIT: https://daneel.io/ru
White Paper: https://daneel.io/whitepaper/en/daneel-wp-latest.pdf
FACEBOOK: https://www.facebook.com/daneelproject
TWITTER: https://twitter.com/daneelproject
TELEGRAM: https://t.me/projectdaneel
ANN THREAD: https://bitcointalk.org/index.php?topic=2376203

* Our BTT account - https://bitcointalk.org/index.php?action=profile;u=1473358;sa=summa
January 27, 2018