Happy New year 2014, friends!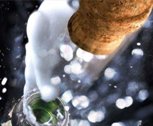 Dear Partners, I would like to congratulate you on the coming New Year and wish you all the benefits of success and achievements in the new year!
2013 year was quite busy in the HYIP industry giant scam projects and activity bystroskamerov undermined the confidence of many investors. However, I want to note that the HYIP is, in principle, and many other business areas is inherent in the cyclical development. And for the time decay is necessarily rise. I am confident that together we can make good money in new 2014.
For my part, I promise - in 2014 there will be a lot of new things on the portal. Now at the stage of development, new sections to support investors, there are several ideas that I will definitely implement in the near future.
Until January 12th I am going on vacation - all refback and (God forbid) insurance will be paid after my arrival, do not worry - I will be offline.
Best Regards, Ilya.
27 December, 2013