Happy New year 2015, friends!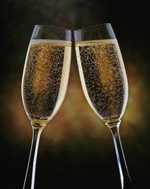 Friends, I want to sincerely congratulate you on the coming New Year!
Of course I would like to wish you all the very best and brightest: good health, endless luck, more joyful moments in life and reliable friends. I would also like to wish you personal development and perseverance in achieving your goals - this is very important. In my opinion, one should always strive to live a bright, interesting, beautiful life. Live it with dignity, without compromising with your conscience. Good luck, friends!
I would also like to thank our friendly Profit-Hunters team - Dmitry "kda", Alexander "tuz", Vitaly "Master Dzen", Dmitry "AspireV". Thank you very much guys - it's a pleasure to work with such responsible, honest and just nice people. I am sure that with such a team our project has a great future!
For his part, I promise in the new year to continue comprehensive support for investors to deal with bystroskamerami, pay high refbeki, efficiently compensate your loss, by all means try to increase the income of our partners.
There are many ideas and innovations that will help us work even more efficiently - we will definitely implement them in the New Year.
Stay tuned, invest wisely, earn portal Profit-Hunters.biz! Profit us, friends!
31 December, 2014