WeToken: Wi-Fi without borders

The Internet should be accessible to all. This is well understood by the developers of the innovative project WeToken. The system functions using modern cryptotene WT. All transactions within the platform are conducted using this crypto currency.
Project: What is it about?
World Wi-Fi is a worldwide decentralized free network. Platform members are a community of ordinary customers, router owners and advertisers. Customers enjoy the benefits of a free wireless connection; router owners are paid by advertisers for ads viewed by users; advertisers acquire an effective ad targeting and advertising campaign performance analytics tool.

What can I do with this crypto currency?
WT allows you to buy services. Advertising in this network can only be purchased in tokens.
WT makes it possible to sell. Tokens can be implemented using exchange exchange systems.
Exchange transactions. Tokens can be exchanged for bitcoins and other local crypto currencies around the world.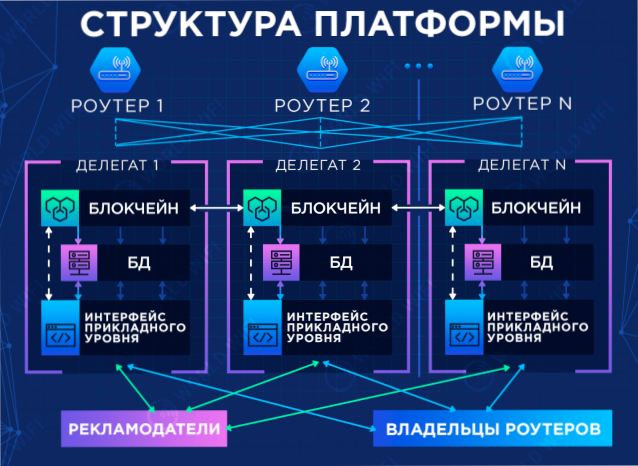 The creators provided for the conditions of limited production of cryptotoxins. This circumstance will promote the further growth of prices for promoted services and tokens. The more a person is interested in the development of the system, the greater the demand for tokens. Advertisers will often apply for and purchase relevant services. This will contribute to the development of the system.
ICO
The released cryptotoks will be distributed according to the following structure:
33% of funds will be allocated for a large-scale crowdsdale;
10% of the Crypto currency is allocated for pre-sales;
2% is allocated to a large-scale bounty-company;
3% will be paid to the advisers;
7% is allocated to the founding team of the project;
5% is assigned to the development team;
40% is sent to the fund for future development and development.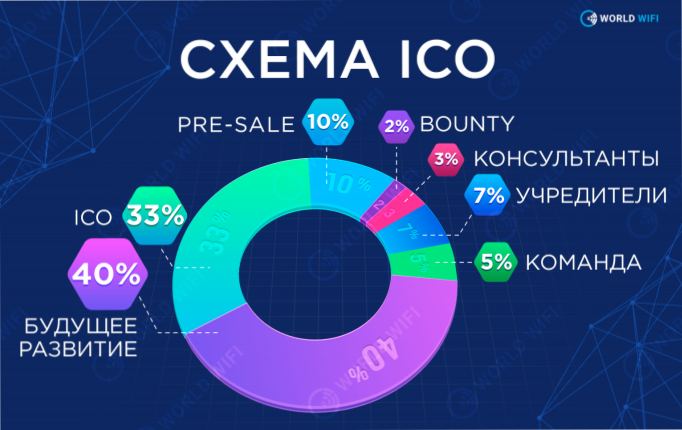 Roadmap
12. 2017 - 03. 2018. Foundation of the project development fund.
03-04. 2018. Completion of the Campus Campaign.
04. 2018. Tokens are listed on all known crypto-currency exchanges in the world.
05-06. 2018. Coverage of the project by all the most significant regions of the world. Creation of a developed community of investors and users of the system.
06. 2018. Develop advanced software for most Wi-Fi routers.
08-12 2018. Start advertising platform, the beginning of its operation.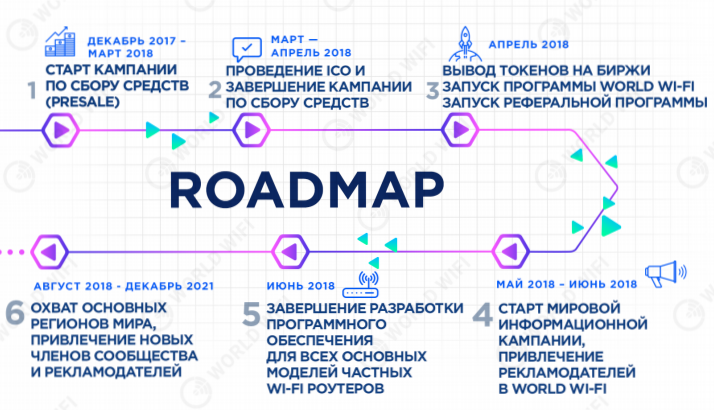 How does the project work?
The existing technologies of the project, mentioned above, are aimed at advertising wireless connection in public places. To date, the Adrenta network has more than 14 thousand open networks and more 100 franchise partners.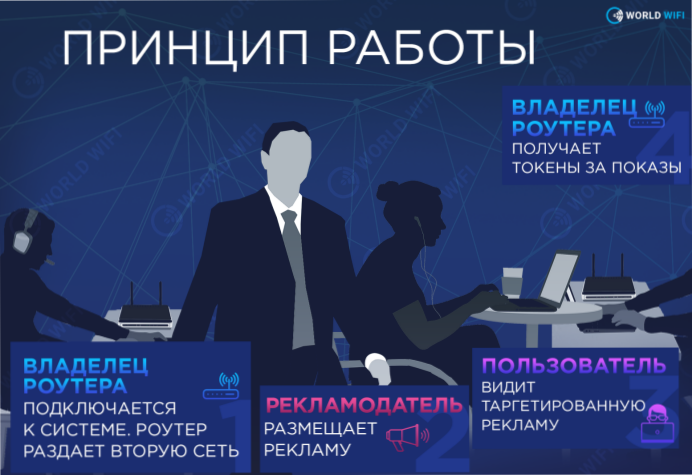 Branches of the project are represented in 80 cities and have more than a hundred specialists. The increase in the number of Wi-Fi access points last year exceeded 800%.
Block for large data
The platform includes Big Data technology used to accumulate and analyze non-personal data and user activity, which allows advertisers to target their ads to those most interested in them.
Blockchain technology allows you to make transactions between process participants faster and for less money. It guarantees that the parties will be able to realize their claims with the help of smart contracts. Blockchain also provides advertisers with absolutely reliable and transparent information about the conducted advertising campaign.
Owners of routers are able to act as standalone service providers and receive additional revenue by providing global access to the Internet.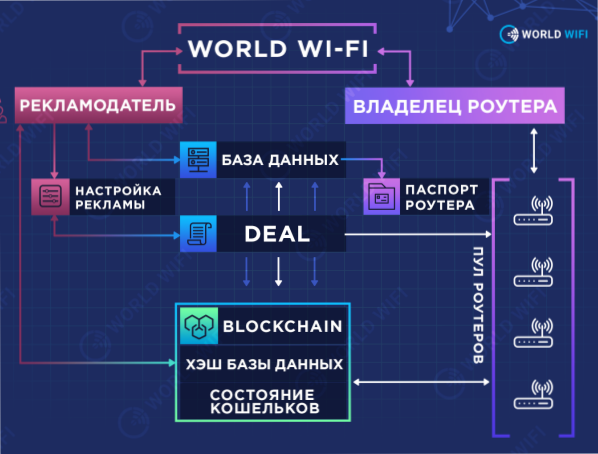 "Radius Wi-Fi" and "Adrenta" work in 80 cities with a staff of just over 100 employees.
World Wi-Fi has analyzed existing business models and understands that blockchain is the perfect technology to create a global decentralized network and provide unique advertising opportunities.
The main market for project - this is an advertising market, whose users choose a broadband network. In the field of Wi-Fi today there are certain technologies that are used by several competitors. Current projects focus on providing high-quality advertising services in public places - airports, restaurants, cafes, shopping centers. They will be included in the project in the created platform of World Wi-Fi and thanks to this, the market develops qualitatively.
Team
I. Yashin. The founder of the project, CEO. Experienced businessman with extensive experience in programming.
Ya. Sepiashvili. Co-founder of the project. For a decade he was engaged in information projects in various fields of production. He is the creator of many services and projects of the system.
D. Koleznev. Chief Operations Manager. Experienced manager in the technical data system.
L. Kemeron. A specialist with a wide experience of management in the field of high technologies.
A. Prikazchikova, a specialist in marketing and PR. A person who has extensive experience in management and development of numerous advertising solutions.
T. Kosykh, CBDO. A person who is interested in distributing the detachment, has experience of successfully implemented projects in different parts of the world.
E. Khashin, CTO and Strategy Specialist.
D. Channagiri. Manager for creating projects for software development. Has a significant work experience to solve the problem of large data.
M. Shoayeb, project manager. Specialist engaged in trading stocks and futures.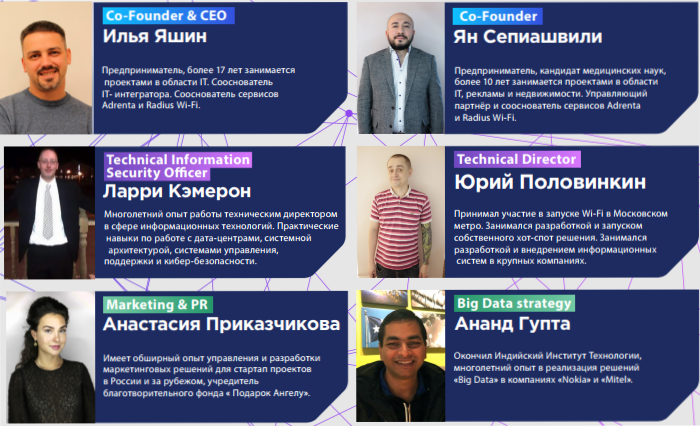 How to participate in ICO?
In order to take part in the global crawside, you need to register in the system and transfer a certain amount of crypto-currency to the project account. Be wary of transferring money to the addresses of accounts listed on other resources.
ICO is an excellent opportunity to purchase tokens at an affordable price. Krausdeyl implies significant discounts with subsequent increase in the cost of tokens.
Developers project plan to conduct a large-scale bounty-company to attract additional customers. The amount of remuneration will be calculated based on the user's activity in the social network.
Official site - https://ru.worldwifi.io/#footer
Whitepaper - https://en.worldwifi.io/files/whitepaper/en.pdf?v5
ANN Bitcointalk - https://bitcointalk.org/index.php?topic=2518622.0
* Our BTT account is https://bitcointalk.org/index.php?action=profile;u=1473358;sa=summary
January 22, 2018