Review and reviews of the Doge-x.com project. Unlimited piggy bank on cue ball with charges of 3% per day.

Another investment novelty has unfolded on the blog, which we added to the portfolio in the Premium format. Externally, the project looks good, uses the original legend to earn money and raise funds, plus it is based on a self-written script. As part of the investment, investors are offered a single tariff with a high rate of 3% daily on an unlimited basis. The body of the deposit upon request is withdrawn with a commission of 5.5% of the amount, payments are instant. The project is fresh, it works only a couple of days, is actively gaining advertising, we recommend you take a closer look.

Doge-x (Project start: April 27 2020 years) SCAM!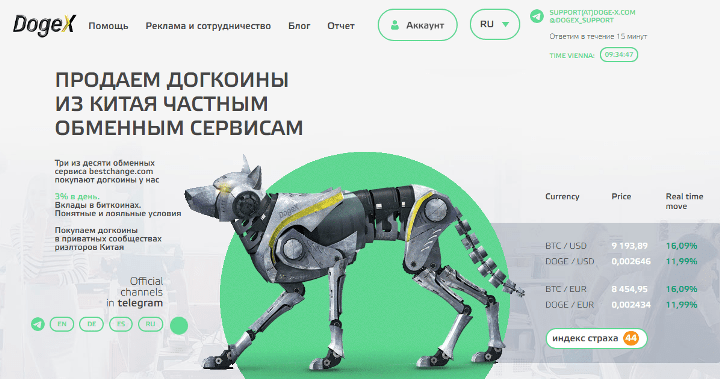 According to the legend Doge X as the main activity is engaged in the purchase of large quantities of Dogecoin cryptocurrency at special closed-type services in China at a bargain price. Thanks to cooperation with many financial exchangers, some of which are on Bestchange, the company's managers resell digital crypto coins in small volumes. To increase the turnover of funds, Doge X now needs additional capital, which was the solution to open the reception of investments from private investors.
Design The project looks high-quality and stylish, it was developed on an individual order in compliance with the main topics. The content is rich and unique, it includes a lot of information materials in five languages, among which there is a Russian-language translation. As development is expected, an increase in language versions is expected, which will create good conditions for most users. Navigation on the site is convenient, it's comfortable to work with the site, except for adaptive layout, perhaps the administration will take note of this.
Investment program Doge-X platform is offered in a single version with unlimited accrual of profit at 3% daily. Investing is available only in Bitcoin cryptocurrency with a minimum amount of 0.003 BTC. It is allowed to withdraw a deposit in whole or in part at any time after the first interest calculation, all requests are processed instantly. Commission for the withdrawal of investments is 5.5% of the amount.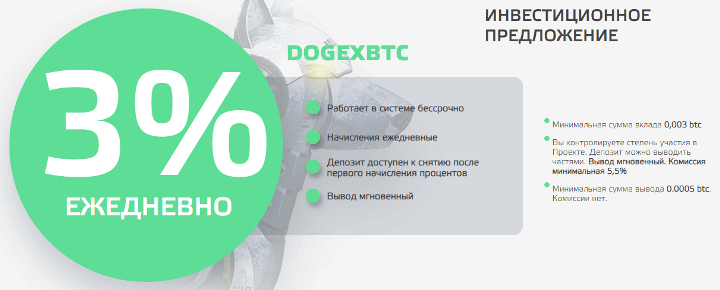 Charges: 3% daily
Min / Max input: 0.003 BTC - no limit
The period of the deposit - indefinitely
Withdrawal of the deposit - at any time
Commission for early withdrawal - 5.5% of the amount
Freezing time - 24 hours
Expected return - 90% per month
Technical part:
- Samopisnaya script
- Dedicated server
- Ddos protection from Storm Wall
- SSL encryption of Let's Encrypt (on 3 months)
- Unique design.
Detailed information on monitors with this project you can look at Allhyipmon
You can see the dynamics of deposits in the project at Investorsstartpage
Detailed contributions statistics and detailed technical analysis can be viewed at Hyiplogs
Discussion of the project on MMGP
Payment systems: Bitcoin.
payment type: Instant.
Minimum withdrawal amount - 0.0005 BTC.
There is no commission for withdrawal of profit, for withdrawal of a deposit - 5.5%
Affiliate Program (three-level): 4% -1% -1% on deposits of your referrals.
4% of the deposits of referrals 1-level
1% of the deposits of referrals 2-level
1% of the deposits of referrals 3-level
Representative affiliate program (three levels): 7% -1% -1% on deposits of your referrals.
7% of the deposits of referrals 1-level
1% of the deposits of referrals 2-level
1% of the deposits of referrals 3-level
To obtain a representative status, it is necessary to carry out a turnover of attracted funds in the amount of at least 0.5 BTC, after which the percentage of interest for first-line deposits will increase automatically.
Contacts:
Feedback form, e-mail, telegram, telegram channel, telegram chat, your YouTube channel.
Support service is open from 10:00 to 21:00 Moscow time.
Conclusion: high-quality Bitcoin piggy bank on a handwritten script, accepts deposits exclusively in BTC, so they should not be uploaded at the start. The platform is being promoted dynamically, appears on well-known monitors and blogs, reviews are mostly positive. The basis of marketing is an unlimited tariff with the ability to pick up a contribution at any time. Profitability is accrued at a fixed rate of 3% per day, at the closing of a deposit or part thereof a penalty of 5.5% of the face value is retained, which is repulsed in just a couple of days. All applications are processed instantly. The affiliate program is moderate, active participants have a chance to increase the level of remuneration. Everyone can also get additional profit by participating in the Bounty project, and in combos with the Bounty blog it is quite realistic to increase your capital several times. The project is on our portal under the "Deposit Protection" until May 10, 2020 with a fund of $ 300. We offer our partners a refund of 5% of your deposit.
Do not forget about the new spring Seasonal stocks from the portal.
Subscribe to our channel Telegram - Subscribe
Chat with a daily distribution of money - Add
Order refbek with generous bonuses through our bot - Try
April 28, 2020