Review and feedback of the Taxi-money.info project. Economic game with virtual business and real earnings (Personal choice).

The list of economic games on Profit Hunters has been replenished with another reliable platform for withdrawing money Taxi Money, which has been operating in the network for over 6 years, pays stably and expands the boundaries of possibilities. This month we launched a huge section in the game with a new city - Taxi Polis. In fact, the game is a real life simulator in which you need to work on a taxi every day, build a business and develop. The income is not large, but stable, if you have free time, you can earn from 22% to 35% monthly. The developers have worked hard on the mechanics of the game, everything is thought out to the smallest detail, register yourself and see.

Taxi money (Project Start: May 22 2014 years).
PERSONAL CHOICE! 6 years of work and development. A unique project - I recommend it!

According to the legend Taxi-Money is an online multiplayer investment game that has existed on the internet for over 6 years. During its work, Taxi Money from a simple economic game has become a place not only for entertainment and earning, but also a platform for communication, trading on the stock exchange, as well as developing business management skills. You will need to buy a taxi, buy a license, get a job, fulfill orders for transporting passengers, monitor the condition of a car, create companies, hire workers, buy land, build buildings - all this and much more is available in the game. It remains only to work out your most effective strategy with a reliable and stable income.
Design the site does not represent anything supernatural, an ordinary resource with game content and incredibly huge functionality. The content of the site is of high quality, which is only worth the section "Question-answer". The internal interface can be mastered for days, you can't figure out all the possibilities on the fly, you have to spend time studying. The language on the site is only Russian, so it will not be difficult to use the information provided.
Marketing is Taxi Money games includes more than 10 ways to earn money with an average monthly income of 22% to 35%. There is no passive income, you have to work and build your business in the game. Each player can have their own strategy. You can buy any of 6 cars and fulfill the carrier's orders, you can rent a taxi and get a percentage. There is an opportunity to create your own business and become the owner of a taxi company, car service, construction company and other areas. You can make money by buying land and buildings, they also offer to make money by buying shares, receiving dividends from them or trading on the stock exchange. For users without capital, there is an opportunity to earn money without investment by browsing advertisers' sites, completing tasks, and more.
The main task for the players is to buy a taxi, acquire a license, get a job in a company and fulfill orders in the city, for which you will receive real money. By completing orders, you increase your level and you can upgrade your car, install new upgrades and get various game benefits. After registration, you will already have one Bombila taxi car in your garage, on which you can start saving up start-up capital, but the number of orders will be limited. In total, 6 types of cars are available for purchase in the project, funds are debited from the account for purchases.

1. Penny
Cost - 199 rubles
Period of validity - unlimited
Execution of orders up to level 1
2. Pole
Cost - 490 rubles
Period of validity - unlimited
Execution of orders up to level 2
3. Optima
Cost - 4990 rubles
Period of validity - unlimited
Execution of orders up to level 3

4. BMW 5
Cost - 14900 rubles
Period of validity - unlimited
Execution of orders up to level 4
5 Audi A8
Cost - 24990 rubles
Period of validity - unlimited
Execution of orders up to level 5
6. Myabach
Cost - 49990 rubles
Period of validity - unlimited
Execution of orders up to level 6
* if you top up your account within the first week after registration, you will receive a bonus of 25% of the top up amount and 10% on your passenger account.
Technical part:
- Samopisnaya script
- DDoS protection from CloudFlare
- SSL encryption of Let's Encrypt (on 3 months)
- PM-Verified Account
- Unique design.
Detailed information on monitors with this project you can look at Allhyipmon
You can see the dynamics of deposits in the project at Investorsstartpage
Detailed contributions statistics and detailed technical analysis can be viewed at Hyiplogs
Discussion of the project on MMGP
Payment systems: Payeer, Qiwi, Yandex Money, Visa / Mastercard, Megafon / MTS / Beeline / Tele2.
payment type: Instant or Manual (depending on the payment system).
Minimum withdrawal amount - 5 rubles.
Commission for conclusion - up to 10% (depending on the payment system).
Affiliate Program (duplex): 7.5% -2% on deposits of your referrals.
7.5% of the deposits of referrals 1-level
2% of the deposits of referrals 2-level
Registration on the Taxi Money website, creating a deposit and withdrawing funds:
1. To register on the main page of the site, click "Register" or "To start playing". Enter your username, e-mail, password, in the "create an account in the city" box, select "Taxi-Polis", go through the captcha, agree to the terms of the project and press the button "Register«.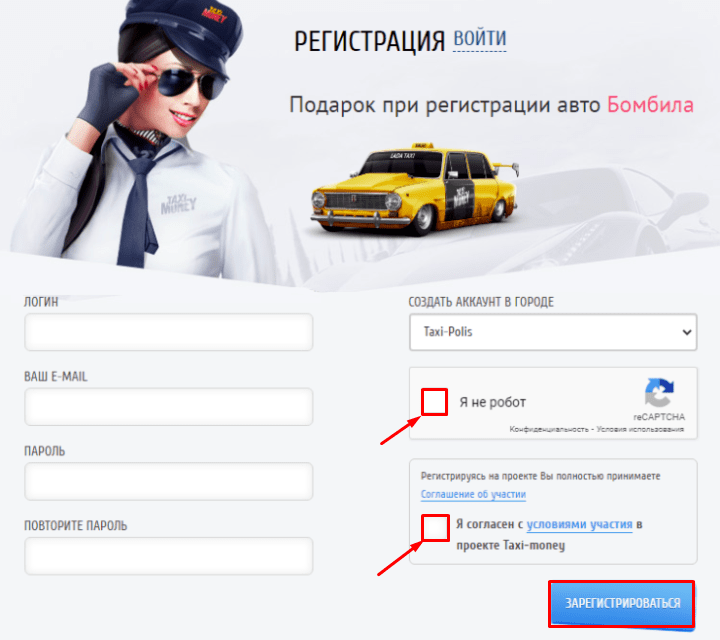 2. After registration and entering the account, you need to replenish the balance, for this we go to the corresponding link "Top up". Many different bonuses are immediately offered to you. Enter the replenishment amount, select a payment system and press the button "Top up", After which you will be transferred to the merchant for payment.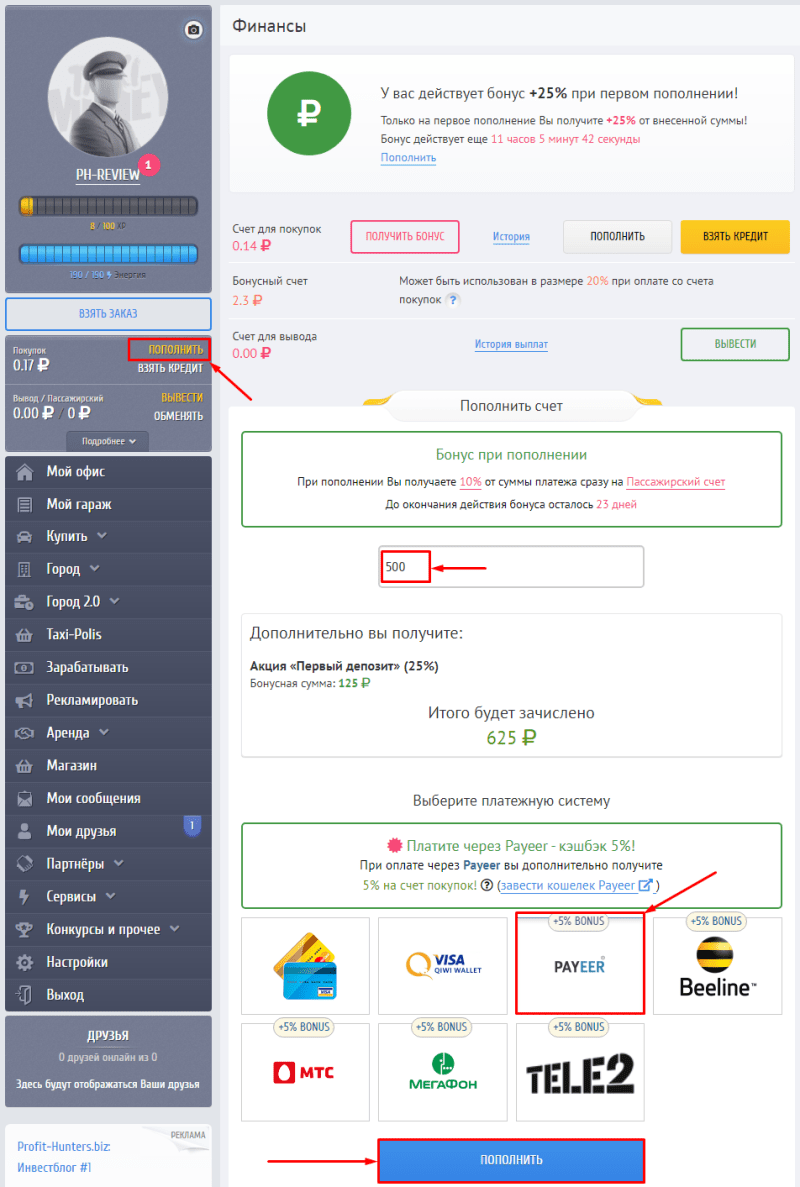 3. We proceed to purchasing a car, for this we select in the menu Buy -> Buy a taxi... On the page that opens, select a typewriter, click "Buy"And agree to the purchase by clicking"Confirm«.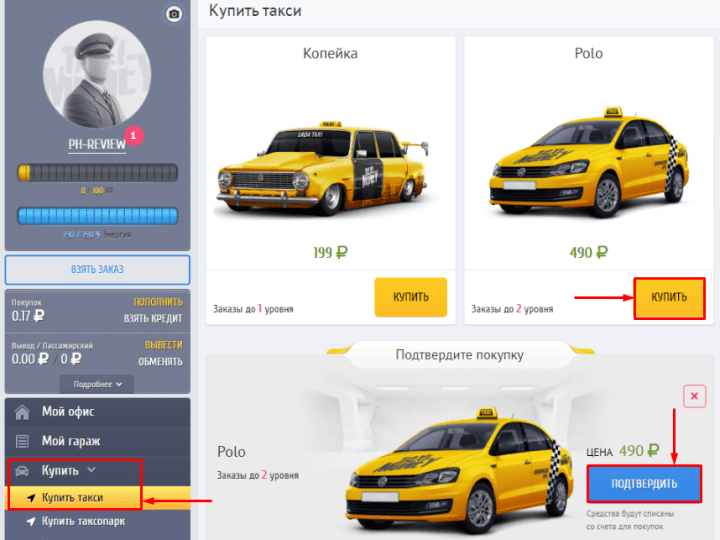 4. To make money, you need to tax, passive income does not drip here. We go to "My garage", Choose a car and click"Take an order". Next, select any order you like and accept it. To receive payment after the expiration of the time, you must confirm the execution and click "Submit your order«.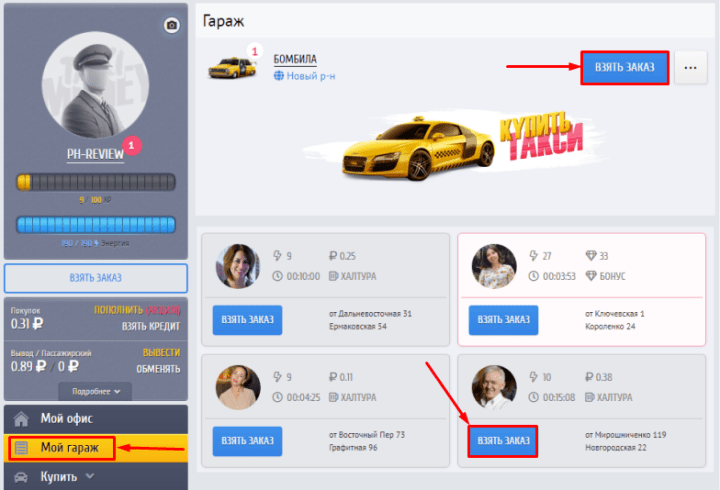 5. To withdraw funds, click "Withdraw", Choose a payment system, enter the amount and wallet number. Make sure that the specified data is correct and click on the "Withdraw«.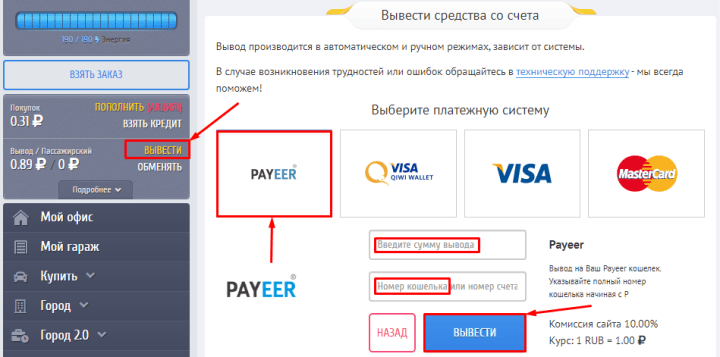 Contacts:
Feedback form, e-mail, telegram channel, social networks Vkontakte, Facebook, Instagram.
Conclusion: Taxi-Money is a unique economic simulator with withdrawal of funds, which has come a long way over 6 years of work and won the trust of the entire Internet community. We have not yet seen such preparation and implementation, it will take more than one day to figure everything out. After registering your account, you will already have a free car "Bombila" in your garage, which you will get as a gift for testing the game functionality. It is also a source of income without investment, as well as viewing links, completing tasks, and so on, but it's all a penny. For a quick start, you will need to spend money on a new car, purchase a license, upgrades, tuning. There are several options to build your own taxi business, also in the new city of Taxi Polis you can buy plots, build buildings and receive additional income and discounts, as the plots develop, you can trade. The main task in the game is to correctly build your strategy and do virtual work every day. You won't be able to earn a lot and immediately, passive income is not provided here, so plan goals based on your capabilities. If you have a lot of time and you are a fan of all kinds of games, then the offer will suit you, especially since it also brings profit - it is doubly pleasant. The process itself is long-term, in reality it will turn out to earn about 20% per month, the funds invested in the game are not refundable. A progressive program has been built for active partners, in which, with the growth of your qualifications, the amount of referral deductions will increase up to 30%. Be sure to register and familiarize yourself with the project, I assure you, you have never seen anything like this. The project is on our portal under "Deposit Protection" until February 1, 2021 with a fund of $ 500. We offer our partners a refund of 8% of your deposit.
Do not forget about the new summer Seasonal stocks from the portal.
Subscribe to our channel Telegram - Subscribe
Chat with a daily distribution of money - Add
Order refbek with generous bonuses through our bot - Try
July 16, 2020