Review and reviews of the Banterbits.pro project. An interesting investment asset with a yield of 2.1% to 6.4% per day.

We have updated the portfolio of the Profit Hunters blog with the new investment product BanterBits, and in today's review we want to talk in detail about this highly profitable fund. The project is made quite professionally, is based on a self-written script and offers 3 tariff plans with yields from 2.1% to 6.4% per day. A large selection of replenishment methods is provided, payments are instant. Advertising of the project is developing dynamically, the platform is gradually becoming recognizable, we recommend that you familiarize yourself with it.

Banterbits (Project start: November 14 2023 years).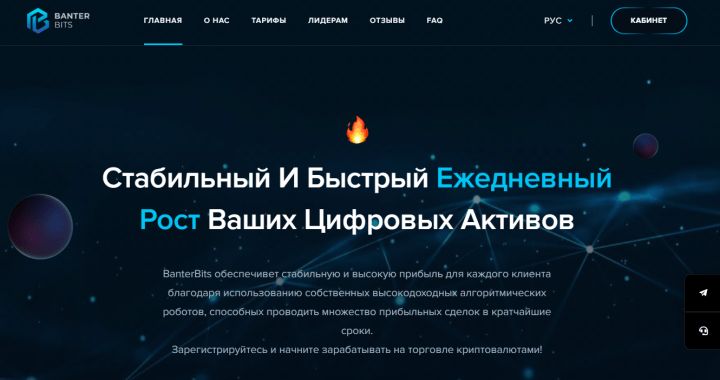 According to the legend BanterBits company was founded by a team of professional traders and engages in cryptocurrency trading using neural networks and its own algorithmic robots. Thanks to proven strategies and modern technologies, the company manages to make many short-term transactions and extract maximum profits with minimal risks. Officially, Banter Bits LTD has been registered in the UK since August 17, 2022 (registration number: 14303021).
Design The project is unique with a pleasant and neat appearance. The platform looks presentable, the information part is prepared in Russian and English. The site is adaptable, navigation is convenient, the main page is equipped with all the necessary materials to get acquainted with the resource. Personal accounts provide simple and clear functionality that will not be difficult for even a beginner to understand.
Investment Plans sorted by gradation by deposit amount, with each tariff differing from each other. The minimum investment size is only $5, payments are accepted in fiat and cryptocurrency, and you can create any number of deposits at the same time. Depending on the chosen plan, the yield varies from 2.1% to 6.4% per day. The working period for minimum deposits up to $300 is not limited; above this amount, profits will be accrued within 30-45 days with the return of the nominal value after the plan ends.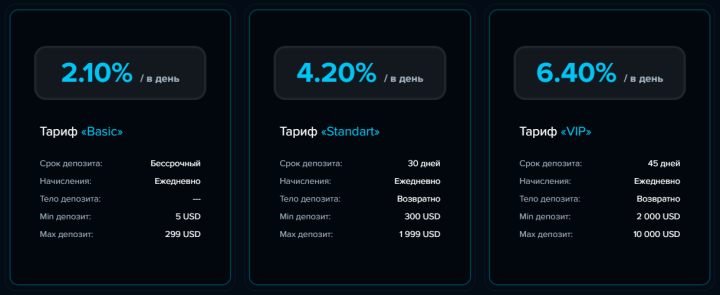 1. Basic
2.1% per day perpetually
Min / max contribution: $ 5 - $ 299
Deposit is included in the payment
Expected return - 63% per month
Going through the breakeven 48 days
2. Standart
4.2% per day for 30 calendar days
Min / max contribution: $ 300 - $ 1999
Deposit at the end of
Net income - 126%
Exit to breakeven over 24 days
3. VIP
6.4% per day for 45 calendar days
Min / max contribution: $ 2000 - $ 10000
Deposit at the end of
Net income - 288%
Going through the breakeven 16 days
Technical part:
- Samopisnaya script
- DDoS protection from CloudFlare
— SSL encryption from Google Trust Services LLC (for 3 months)
- Unique design
Detailed information on monitors with this project you can look at Allhyipmon
You can see the dynamics of deposits in the project at Investorsstartpage
Detailed contributions statistics and detailed technical analysis can be viewed at h-metrics
Payment systems: Bitcoin, Ethereum, BitcoinCash, Litecoin, Dogecoin, Tether (TRC20/BEP20), Tron, Qiwi, YooMoney, Bank cards.
payment type: Instant (possible delay to 24 hours).
Minimum withdrawal amount - 1 $.
Commission for withdrawal no.
Affiliate program (five levels): 5% -3% -1% -0.5% -0.5% on deposits of your referrals.
5% of the deposits of referrals 1-level
3% of the deposits of referrals 2-level
1% of the deposits of referrals 3-level
0.5% of the deposits of referrals 4-level
0.5% of the deposits of referrals 5-level

Bonus program:
20$ – for achieving a turnover of 1000$
100$ – for achieving a turnover of 5000$
300$ – for achieving a turnover of 10000$
1000$ – for achieving a turnover of 30000$
5000$ – for achieving a turnover of 100000$
> > > Registration in Banterbits < <
Refback 7% of the deposit amount and $500 insurance.
Registration on the BanterBits website, creating a deposit and withdrawing funds:
1. To register, follow the link from the blog to the main page of the site and press the button "Create an account" Fill out the form with registration data, check the upline (should be "ProfitHuntersBIZ"), complete the captcha, agree to the terms of the user agreement and click the "Register».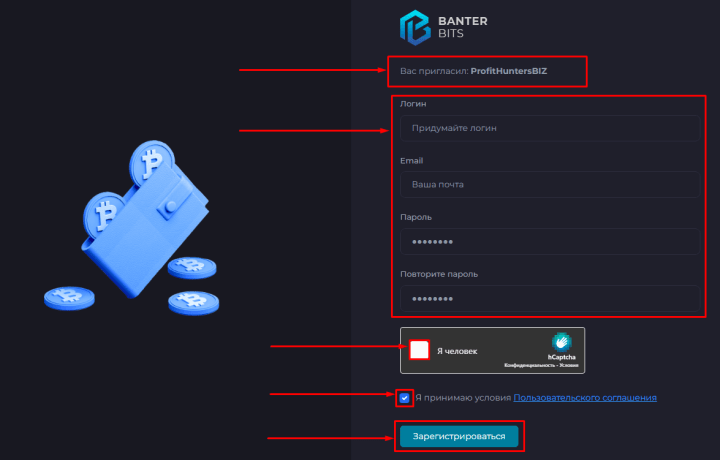 2. To invest in your personal account menu, go to the "Deposits" Next, enter the deposit amount, indicate the payment system and click the "Proceed to payment", then transfer the required amount using the specified details.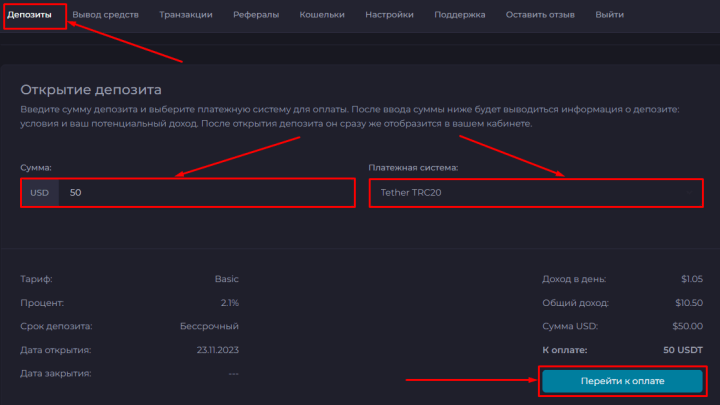 3. To withdraw accrued profit, first enter your wallet address in the settings, then go to the menu on the " tabWithdraw" Select a payment system with an available balance, enter the amount and click the "Withdraw» to confirm payment.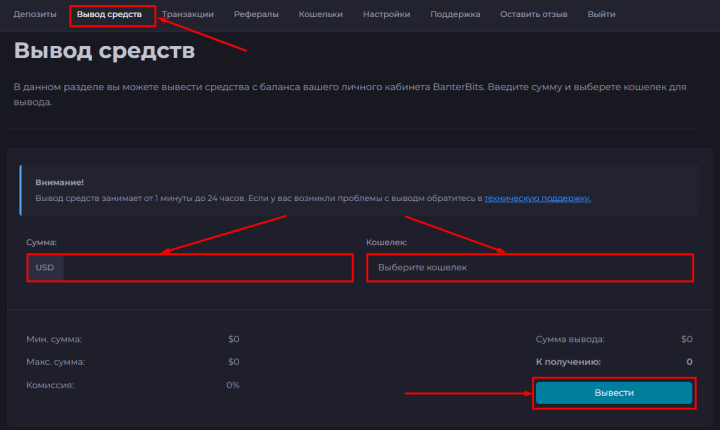 Contacts:
Address, e-mail, telegram chat, telegram bot.
Conclusion: An interesting investment project with high-quality preparation and working marketing. The first plan is unlimited and to open it it is enough to deposit 5 USD; the remaining plans have a certain validity period of 30 and 45 days with a return of the amount of investment. A transfer to an account can be made both in a fiat payment system and in a cryptocurrency; the withdrawal of funds is not tied to a specific wallet and can be ordered to any available payment system with instant payment processing. Additional activity is also rewarded; there is an affiliate program with 5 levels and a bonus system with cash prizes for turnover. The blog was recently added with VIP accommodation, we recommend participating in small amounts. The project is on our portal under perpetual "Deposit Protection" with a fund starting from $500. We offer our partners a refund of the referral commission of 7% of the amount of your deposit.
Subscribe to our channel Telegram - Subscribe
Chat with a daily distribution of money - Add
Order refbek with generous bonuses through our bot - Try
20 November, 2023