Review and reviews of the Britishfxfunds.com project. Long-term middleman with charges from 0.5% per day.

Several new projects have entered the blog's VIP portfolio this week, one of which is the long-term investment fund British FX Funds. The project was created by a foreign administration, has an abundance of investment proposals and a huge selection of payments. The basic tariff plan offers 0.5% per day for 500 working days with a minimum of $ 10 and a return on investment at the end of the term. Despite the announced start in 2013, the site entered the market just a few days ago, so we go at the very beginning and recommend it for long-term investments.

British FX Funds (Project Start: August 4 2020 years). SCAM!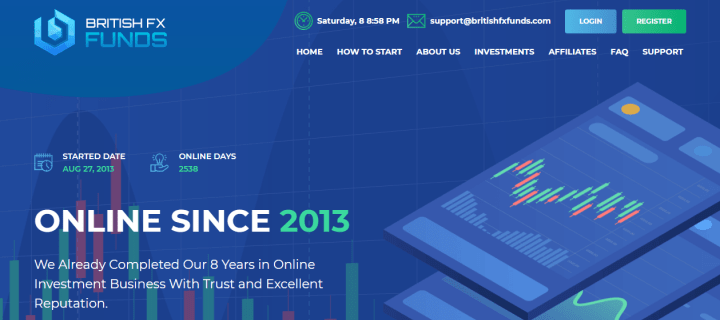 According to the legend the international society British FX Funds trades in the Forex market, as well as stocks and cryptoassets on stock and cryptocurrency exchanges. The backbone of the company is made up of professional traders and financial specialists who are responsible for a stable income. In their work, specialists use unique trading strategies that exclude all kinds of risks. Thanks to constant control over the market and many years of success in the field of trading, the company provides investment services around the world. British FX FNDS Limited is officially registered in the UK since June 22, 2020 (registration number: 12689608).
Design the site was developed within the framework of modern requirements using dynamic elements and adaptive layout for convenient work with investments on mobile devices. The outer side of the project is made in light colors, it looks beautiful and original. The quality of the content is quite positive, the content is not lame. Perhaps, some inconvenience may arise only when studying the material, since the site is entirely presented in English. Now there are many different services for auto-translation of texts into any language, so we do not consider this item a serious drawback. The internal cabinet is intuitive and easy to use, I think you can figure it out quickly.
Marketing The British FX Funds project has many tariff plans, among which not all are relevant for certain reasons. Investment proposals are divided into 2 groups: with the accrual of profit on weekdays within 10-500 working days and with the accrual of profit at the end of the term in 1-120 working days. In all cases, the body of the deposit is returned at the end of the investment. The minimum investment amount set for creating a deposit is available from $ 10.
Group of plans with accruals on weekdays:

Plan 1
0.5% on weekdays for 500 business days
Min / max contribution: from 10 $
Deposit at the end of
Net income - 250%
Going through the breakeven 200 days
Plan 2
2% -3% on weekdays for 90 business days
Minimal contribution: from 1000 $
Deposit at the end of
Net profit - from 180% to 270%
Exit to breakeven no later than 50 working days
Plan 3
6% on weekdays for 35 business days
Minimal contribution: from 3000 $
Deposit at the end of
Net income - 210%
Going through the breakeven 17 days
Plan 4
12% on weekdays for 18 business days
Minimal contribution: from 5000 $
Deposit at the end of
Net income - 216%
Going through the breakeven 9 days
Plan 5
20% on weekdays for 10 business days
Minimal contribution: from 10000 $
Deposit at the end of
Net income - 200%
Going through the breakeven 5 days
Group of after-plans:

1% after 150 day (from $ 1);
2% after 200 days (from $ 3);
3% after 300 days (from $ 7);
4% after 400 days (from $ 15);
5% after 500 days (from $ 35);
6% after 1000 days (from $ 70);
7% after 2000 days (from $ 120);
Technical part:
- Licensed script GoldCoders
- Domain redeemed for 2 year
- Dedicated server
- DDoS protection GeniusGuard
- SSL encryption from Sectigo (on 2 of the year)
- PM-Verified Account
- Unique design.
Detailed information on monitors with this project you can look at Allhyipmon
You can see the dynamics of deposits in the project at Investorsstartpage
Detailed contributions statistics and detailed technical analysis can be viewed at Hyiplogs
Payment systems: Perfect Money, Payeer, AdvCash, NixMoney, PayPal, Visa / Mastercard, Bitcoin, Bitcoin Cash, Bitcoin Gold, Ethereum, Tether, Litcoin, Ripple, Dash, Dogecoin.
payment type: Instant (for Fiat); Manual (for cryptocurrencies and PayPal - up to 24 business hours).
The minimum withdrawal amount is $ 0.1 (for cryptocurrencies and PayPal - $ 5).
Commission for withdrawal no.
Affiliate Program (three-level): from 5% to 13% of the contributions of referrals in your structure.
5% -10% of the deposits of referrals 1-level
2% of the deposits of referrals 2-level
1% of the deposits of referrals 3-level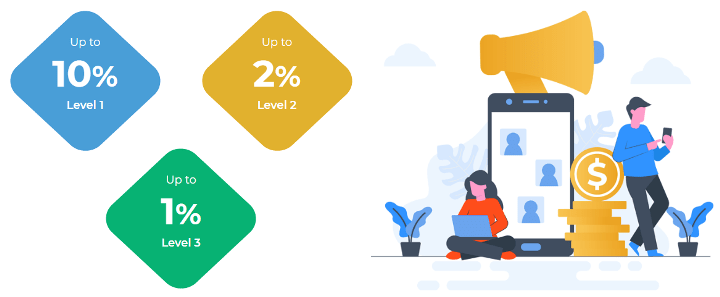 The percentage of rewards for investments of personally invited referrals depends on their number (up to 300 referrals - 5%, 301-500 referrals - 7%, from 501 or more - 10%).
Registration on the British FX Funds website, making a deposit and withdrawing funds:
1. On the main page of the resource, find the button "Sign up»In the upper right corner and click it. Fill in all the empty fields with registration data, indicating your name, login, password, email, as well as a secret password and answer. Next, check the upline, it should be indicated Bona Hunter (ProfitHuntersBIZ)... Go through the captcha, leave a check mark, confirming your agreement with the terms of the project and click "Sign up».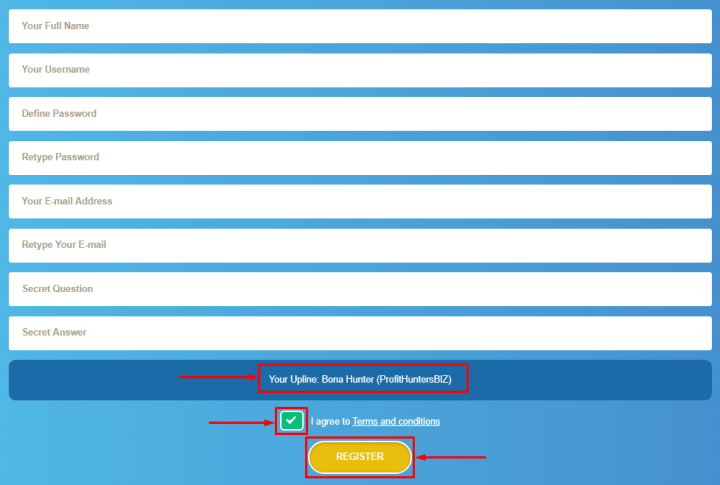 2. Go to your personal account and select the section "Invest". Specify an investment plan, enter the deposit amount and select a payment system for transferring the deposit. After completing these steps, click "Spend».
3. After activating the deposit, profit will be added to your balance every day. You can create a request to withdraw funds from the balance in the section "Withdraw».
Contacts:
Address, feedback form and e-mail.
Conclusion: interesting foreign middle manager with excellent training. The project is designed for lovers of long-term, but stable investments. Marketing consists of many investment plans, among which the most affordable is only one for a period of 500 business days and charges of 0.5% from Monday to Friday. The choice of payment instruments is really huge, even such a rare payment as PayPal was connected. Withdrawals to fiat are processed instantly upon request; delays of up to 24 working hours are allowed for crypt according to the regulations. We have already cooperated with the administrator, knows how to work for a long time, if there is a desire. Since we go at the start, the probability of getting a profit is high. We have set up protection for our partners until next summer, we recommend. The project is on our portal under "Deposit Protection" until June 10, 2021 with a fund of $ 500. We offer our partners a refund of 7% of your deposit.
Do not forget about the new summer Seasonal stocks from the portal.
Subscribe to our channel Telegram - Subscribe
Chat with a daily distribution of money - Add
Order refbek with generous bonuses through our bot - Try
August 7, 2020