Review and reviews of the Usdbull.com project. Fresh investment project with hourly charges and auto payments up to 5% per day.

We added the first project on Hunter this year, which is a representative of the highly profitable HYIP category. There is only one investment plan, but it is very profitable and will appeal to all users. For 40 days, they offer to earn 100% of net profit. Additional benefits include hourly charges and automatic payments. The project is fresh, it works only with crypt, we definitely recommend that you familiarize yourself with it.

USDBull (Project Start: January 1 2022 years).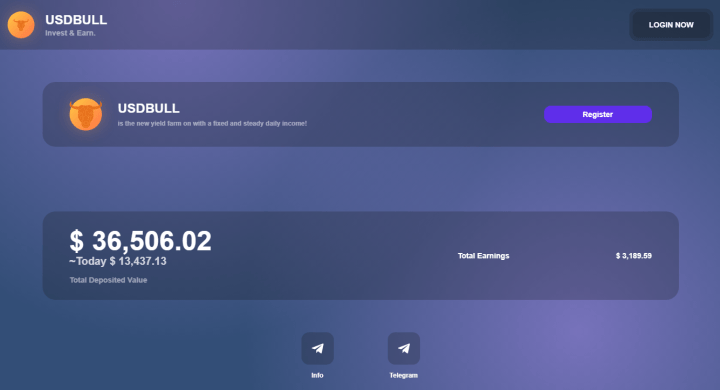 According to the legend the project is an online investment platform with a clear and fixed offer for private investors. The team is made up of good specialists who are ready to apply their skills and knowledge so that users from any corner of the world can earn stable and safe money.
Design The site has a simple interface, looks inexpensive and allows users to understand the functionality on an intuitive level. There are few sections with information on the site, all the main materials in their original form are provided on the front page in English. The entire interface is easy to use and optimized for any device.
investment plan the project is provided with the only choice for each investor, according to the terms of which the accruals on the deposit will be made every 60 minutes and in total will bring 200% in 40 days. The body of the deposit is included in payments, 5% of the invested amount will automatically be transferred to your wallet per day. The minimum deposit size depends on the chosen cryptocurrency and ranges from $ 25 and more, the number of active investments is not limited.

5% daily for 40 calendar days (~ 0.21% every hour)
Min-max contribution: 25 $ / 50 $ - 5000 $
Deposit is included in the calculation
The total profit - 200%
Going through the breakeven 20 days
Technical part:
- Licensed script from YieldCoders
- Domain redeemed for 3 year
- Dedicated server
- DDoS protection from CloudFlare
- SSL encryption by CloudFlare (1 on year)
- Unique design.
Detailed information on monitors with this project you can look at Allhyipmon
You can see the dynamics of deposits in the project at Investorsstartpage
Detailed contributions statistics and detailed technical analysis can be viewed at Hyiplogs
Discussion of the project on MMGP
Payment systems: Bitcoin, Ethereum, Litecoin, Ripple, Dogecoin, Tron, Binance Coin, BUSD, Tether (USDT trc20).
payment type: Automatic.
Minimum deposit amount: 0.0011 BTC, 0.1 ETH, 0.3 LTC, 0.1 BNB, 250 DOGE, 60 XRP, 650 TRX, 25 BUSD, 25 USDT.
Minimum withdrawal amount - from $ 5.
Commissions for input and output are absent.
Affiliate program (five-level): 5% -2% -1.5% -1% -0.5% on your partner contributions.
5% of deposits of partners of the 1st level
2% of deposits of partners of the 2st level
1.5% of deposits of partners of the 3st level
1% of deposits of partners of the 4st level
0.5% of deposits of partners of the 5st level

Registration on the UsdBull website, making a deposit and withdrawing funds:
1. To register, follow the referral link from the blog to the official website and click "Sign up". Next, fill out the registration form, check the upline (should be "ProfitHuntersBIZ"), Read the rules and click the button"Sign up».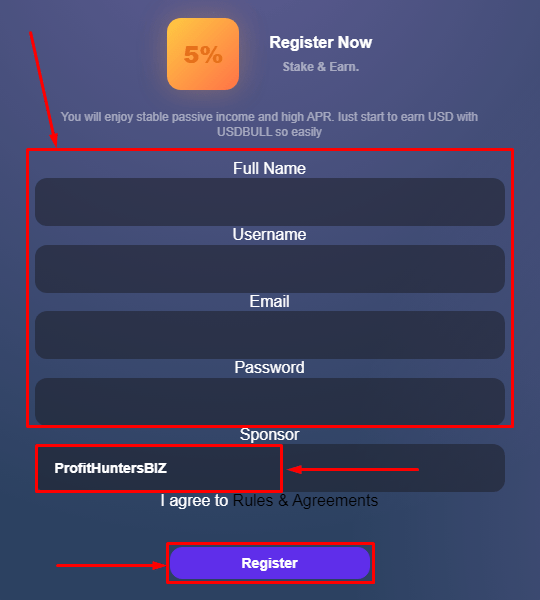 2. To invest, go to the "Deposit". Select a payment system from the list of cryptocurrencies, enter the deposit amount and click "Deposit". Next, send a transfer to the provided wallet address, and after a certain number of confirmations in the blockchain network, your deposit will be activated.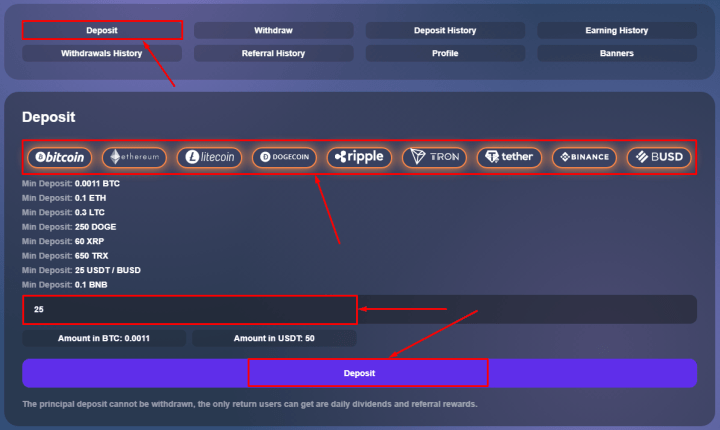 3. Withdrawal of accrued profit is made in automatic mode, do not forget to specify your details for withdrawal in the profile settings.
Contacts:
E-mail, online support, telegram, telegram channel / chat.
Conclusion: great fast project, presumably from an experienced admin. Launched quite recently, almost from the start on a blog decorated in a VIP format. Advertising goes smoothly, gradually connects good blogs and monitors. The main advantages include working marketing with a one-way offer, where 5% is charged per day for 40 days. In this case, the mechanics of interest accrual is performed every hour and is automatically withdrawn to the wallet from $ 5. You can invest only with the help of available cryptocurrencies, the choice is large, and it will also expand as the fund develops. Externally and technically, the site looks inexpensive, but no special remarks or shortcomings have been identified, we advise you to take a closer look. The project is on our portal under "Deposit Protection" until January 25, 2022 with a fund of $ 500. We offer our partners a refund of 7% of your deposit.
Subscribe to our channel Telegram - Subscribe
Chat with a daily distribution of money - Add
Order refbek with generous bonuses through our bot - Try
January 3, 2022