Review and feedback of the Whaleplan.io project. Classic high-speed matrix on a smart contract.

We have issued a non-standard investment novelty on the blog based on a unique smart contract in the TRON blockchain. The project is a matrix system where by investing only 500 TRON and inviting acquaintances via a link, you can get up to one hundred million tokens. For active participants, very favorable conditions have been created; on the liability, there is also the opportunity to receive overflows from the program. On the blog, the site is placed in a VIP format, so you can count on us for the maximum protection of your investments, we recommend.

Whaleplan (Project Start: December 8 2020 years).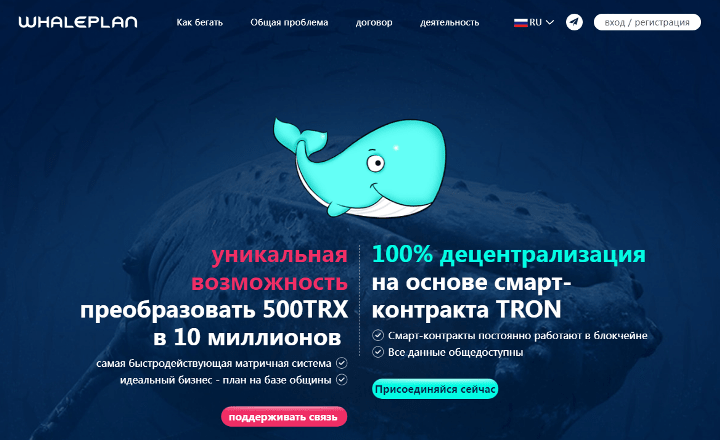 According to the legend the online investment platform WhalePlan is an automated decentralized program deployed on the TRON blockchain. The project was created by a group of cryptocurrency enthusiasts based on a smart contract, the main task of which is the automatic distribution of payments between all participants.
As part of marketing of the WhalePlan project, you first need to install a browser extension or download a mobile wallet that supports the Tron cryptocurrency (TRX). Since the investment platform operates on a smart contract, you need to replenish your wallet with a certain amount and transfer it to the address of the contract. Investing is about buying levels and building your own structure. There are 8 levels in the project. To buy the first level, you will need to invest only 500 TRX, which will go to your upline. By inviting three active partners to the program, you will also receive 500 TRX from each of them. To buy the second level, you need to transfer 1500 coins, after which all the next purchases of the second level in your structure will be sent to your wallet. In this case, 9 people will transfer 1500 TRX to you, and in the end you will earn 13500 TRX. The next level will cost 4500 TRX, while the purchase is paid from the funds earned. You can also purchase all levels at once, without waiting for the matrix to be filled. Otherwise, funds for paying a level that you have not yet reached will go higher in the structure.
For convenience, a special table has been created with all levels, their cost and profitability: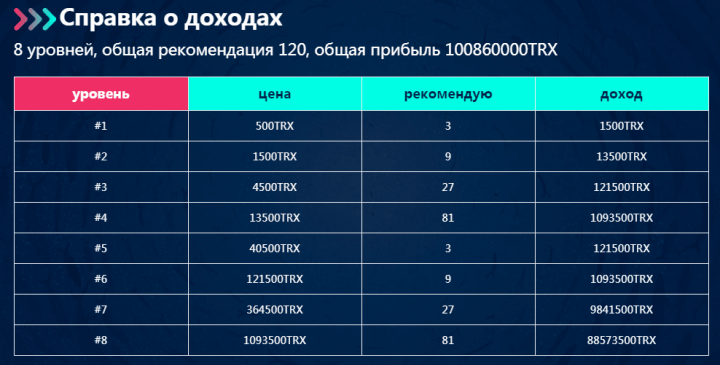 Technical part:
- Samopisnaya script
- Dedicated server
- Hosted by Guangzhou Yisu Cloud Limited
- SSL encryption from Let's Encrypt (on month 3)
- Unique design
- Works on a smart contract (smart contract address).
Detailed information on monitors with this project you can look at Allhyipmon
You can see the dynamics of deposits in the project at Investorsstartpage
Detailed contributions statistics and detailed technical analysis can be viewed at Hyiplogs
Payment systems: Tron (TRX).
payment type: Instant.
The minimum transfer amount is 500 TRX.
Commission for each transaction when transferring - from 2 to 5 TRX.
Contacts:
Telegram, telegram chat, telegram channel.
Conclusion: added from the start a unique smart contract with a matrix investment system. The program differs from standard HYIPs in that inviting people is a mandatory requirement, and funds are transferred to other users through a contract. You can, of course, get system referrals either through an overflow from the structure of your superior, but the maximum effect will be from personal invitations. The entry fee starts from 500 TRX, to increase your own level in the future, transfers need to be made larger, but the profitability will also be tangible. To begin with, they invested 6500 thrones here, thereby redeeming the first three levels in the matrix. Investments are available exclusively in TRON cryptocurrency, so be sure to open a wallet on your TronWallet mobile device or install the TronLink extension. In terms of promotion, at the moment, no one is engaged in the project, you can find it only on Profit Hunters, so we are waiting for you all in our team. The project is on our portal under "Protection of deposits" until January 5, 2021 with a fund of $ 500. We offer our partners a refund of 10% of your deposit.
Do not forget about the new winter Seasonal stocks from the portal.
Subscribe to our channel Telegram - Subscribe
Chat with a daily distribution of money - Add
Order refbek with generous bonuses through our bot - Try
8 December, 2020